ITM 2016
2016-05-10
SANTEX RIMAR GROUP and SMIT foster their strong commitment in Turkey

SANTEX RIMAR GROUP CEO Stefano Gallucci (c) 2016 SANTEX RIMAR GROUP
At ITM 2016 SMIT (Hall 2 / Booth 210 B) will exhibit a loom for high quality shirting which is an evolution of the series characterized by absence of guide block, flying ribbon technology and optimized warp shed studied to reduce yarn breakages or defects. SMIT smart platform of weaving machines is available in various configurations and can be used in all the textile sectors, including terry and home-textile.
The entrance in SANTEX RIMAR GROUP will allow SMIT to use a vast sales and support network worldwide to open up new opportunities and to provide a higher level of know-how for customers. The synergy between SMIT and SANTEX RIMAR GROUP will allow customers to rely on global service network, high quality products, deep technological heritage and above all on an integrated technology provider for all production processes, from loom to finished - natural and technical - textiles.
"Turkey has always been one of the most important market for SMIT: with more than 2,000 looms installed all over the Country we are present in important textile areas such as Istanbul, Bursa, Denizli, Gaziantep, Kahramanmaraş and others", says Stefano Gallucci, Group CEO.
"During ITM we are confident to increase contacts and to further develop our spare parts and loom business. The locally based sales and service organization can effectively support customers with spare parts and with the involvement of skilled mechanical, textile and electronic technicians too".
SMIT has been a forerunner in the weaving textile machine sector since 1938 and has become a key player worldwide in supplying weaving machines for a large variety of applications.
The technology characterizing SMIT production includes weaving machines with rapier weft insertion for home textiles, garments and terry cloths; air-jet weft insertion machine for high production volumes and customized solutions for the production of special technical fabrics.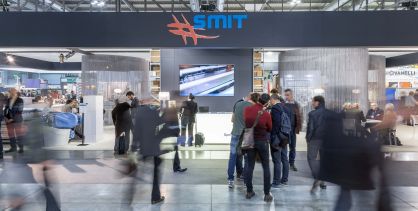 Pic: SMIT booth at ITMA 2015 in Milan
SANTEX RIMAR GROUP together with SMIT will continue focusing on products innovation and development to guarantee all their customers new solutions and further growth of their production processes.
Related News
More News from Santex Rimar Group

Latest News