Dyeing, Drying, Finishing
2015-08-05
Considerable interest in iNTERSPARE textile machines in Iran

Considerable interest for iNTERSPARE technology. Mr. Polchow (right) had to answer a lot of questions during the B2B matchmaking. (c) 2015 iNTERSPARE Textilmaschinen
More than 250 participants expressed considerable interest in the iNTERSPARE textile machines from the Krantz and Artos product lines at the "German Technology meets Iranian Textile and Carpet" conference of 21st and 22nd April 2015, organized jointly by the VDMA Textile Machinery Association and the "German-Iranian Chamber of Industry and Commerce" (AHK).
iNTERSPARE Managing Director Dirk Polchow is very satisfied with the VDMA conference and has praised the organizers. He said: "Our association has once again organized an outstanding event, bringing all the relevant Iranian textile companies and German machine producers together to the table."
With his much noticed presentation "Non lubricated chain systems as lower maintenance execution for Artos and Krantz tentering machines (stenter)", Polchow certainly had it far easier than some of the other participants. This is due to the high level of publicity of his machines in Iran. According to an analysis of stock data, iNTERSPARE was able to ascertain that of the roughly 400 tenter frames in the country, which are spread between around 300 textile finishing firms, about 160 of them come from the Artos (Babcock), Krantz, Famatex, Stentex and Textima product lines of iNTERSPARE. That corresponds to a market share of 40% and makes iNTERSPARE a market leader in Iran.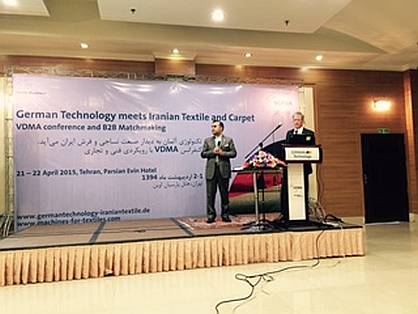 Pic: Mr. Polchow talked about "Non lubricated chain systems".
The interest in Polchow's remarks was accordingly quite high, which covered topics including modernization, expansion, retrofitting, spare parts and services, with particular attention on the retrofitting of fabric transport chains. Around 85% of the tenter frames from the iNTERSPARE portfolio in operation in Iran still do not have a non-lubricated fabric transport chain at their disposal. Such a non-lubricated tentering chain for tenter dryers (Babcock patent) avoids the need for oil guns on the belt, and means no lubrication maintenance is necessary on the links of the chains. This removes the need for expendable parts in the belts. Advantages for production include, for example, less downtime, improved quality of products and reduced maintenance requirements.
It is also worthwhile to update obsolete machines with the newest available technology, Polchow explained, giving an example of the retrofitting of an old Artos tenter frame to a new Artos Unistar by changing the dryer. By implementing such a modification, textile companies can benefit from significant cost cutting by means of the Babcock patented Econ-Air energy saving system and the efficient Star-Jet nozzle of the new dryer. The Econ-Air energy saving system markedly improves the airflow in the tenter frame, and with just the addition of an exhaust fan, also makes significant savings on energy. This is clearly an important subject concerning the requirement of the industry to improve sustainability.
In the B2B matchmaking which followed the presentation, it became obvious that Polchow had touched a nerve within the participants with his choice of topic. "Increased productivity", "reduced costs" and "improved product quality" are the key issues for the Iranian textile industry.
Polchow added: "We have conducted many productive conversations over the course of the conference, and many textile producers swear by our Krantz and Artos machines, and would like to renew them. The most recent developments in Iran seem very encouraging. On the other hand there is also still plenty to do in order to achieve concrete contracts. This primarily concerns the availability of foreign currencies, the banking system and money transfers. Our conference this spring was an important step in the right direction towards strengthening our cooperation. If everything goes according to plan from here on out, we will be able to take the next step in our cooperation by the ITMA at the latest. In this regard I have the utmost faith in our association, which is always at our side to offer guidance and resources."
Pic: All participants have been very comfortable with the conference organized by VDMA and AHK (f.l.t.r.) Mr. Abolfazi Mashadi (iNTERSPARE Agent), Mr. Thomas Waldmann (Managing Director VDMA Textile Machinery Association), Mr. Dirk Polchow (Managing Director iNTERSPARE Textilmaschinen) and Mr. Amin. Meftahi (General Secretary of Textile Machinery Association of Iran) 
Related News
Latest News Dyeing, Drying, Finishing
More News from iNTERSPARE GmbH

Latest News