Weaving
2018-03-15
After four days, the DTG Bangladesh ended successfully on 11. February 2018. This leading trade fair for machines of the textile and clothing industry took place at the Bangabandhu International Conference Center in Dhaka, and had roughly 1,100 exhibitors from 36 countries. KARL MAYER was also among the exhibiting companies; this enterprise belongs to the leading manufacturers of the international textile machine construction.
...more
Weaving
2018-03-08
KARL MAYER is showcasing market-specific and innovative systems for the Turkish market in hall 7, stand 709 at the ITM exhibition, which is taking place from 14.-17.04.2018 in the Tüyap Fair Convention and Congress Center in Istanbul
...more
Weaving
2018-02-28
This year again, the Dhakatex organisers could, after a less frequented opening day, register a satisfying number of visitors to the trade fair held from 8 - 11 February in Dhaka. Thus the importance of this trade fair has once again been underlined.
...more
Weaving
2018-02-28
The ITM trade fair for textile industrials is opening its doors in Istanbul mid-April. Stäubli is looking forward meeting with customers and all other interested parties at booth n°217 in Hall 2 where latest machinery solutions for the weaving and knitting industry can be seen.
...more
Weaving
2018-02-19
KARL MAYER is exhibiting at this year's ITM exhibition in hall 7, stand 709 as an innovative partner in the warp knitting and warp preparation sectors, and one which can offer leading brands many new ideas and concepts.
...more
Weaving
2018-02-14
After the introduction of the Handlook Carpet Innovator HCiX2 in reed 1000 d/m 6 years ago, Vandewiele came up with an even higher carpet quality in reed 1200 d/m. Today, the impossible is made possible: Van de Wiele introduces the HCiX2 in reed 1500 d/m, an astonishing high density carpet weaving machine producing handlook carpets with up to 5 million(!) points per square meter.
...more
Weaving
2018-02-13
On 9th February 2018 KARL MAYER welcomed the Indian Minister of State for Textiles, Mr. Ajay Tamta, at its Development Center in Obertshausen. The government representative was accompanied by Mr. Anant Kumar Singh, Secretary Government of India, Ministry of Textiles, and by other delegates from the Ministry and Consulate General.
...more
Weaving
2018-01-04
In its 126th year of existence, Stäubli's offers technologies that bring the textile industry more and greater benefits. In Bangladesh, from 8th to 11th February, they will be exhibiting their know-how on their agents booth, i.e. Spintex Technology Ltd. Textile industrials can discover machinery and system solutions that allow to optimize the workflow in their mill in order to create more quality output and profit from increased time savings.
...more
Weaving
2017-12-08
With 9 months of sufficient preparation, KARL MAYER Workshop Vietnam has officially launched with Grand Opening Ceremony on November 13, 2017.
...more
Weaving
2017-12-07
The world of floor coverings is showing its latest innovations, designs, and technologies at Domotex, this year with a new hall layout. Stäubli, along with its brand Schönherr carpet systems, has a new booth location, one that is still close to its customers. All interested persons are invited to visit Stäubli in Hall 6 at Booth H28.
...more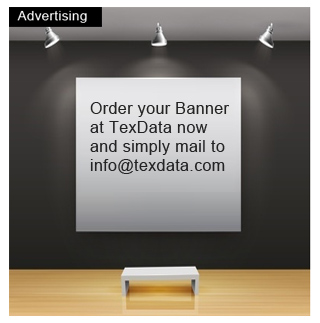 Older News

Weaving
2017-11-30
Itema, the largest privately-owned manufacturer of best-inclass weaving machines, spare parts and services, is exhibiting at ITMACH India (Hall 6 / A33-34 & B1-2) from December 7 th – 10th at The Exhibition Centre, Gandhinagar, Gujarat.
...more
Weaving
2017-11-01
StäubIi, leading provider of shedding solutions for frame weaving, Jacquard weaving, and solutions for an automated weaving preparation process, invites visitors to its booth B41/C1 in Hall 6 at this year's ITMACH INDIA.
...more
Weaving
2017-10-16
Itema, the world's largest privately held provider of advanced weaving solutions, including best-in-class weaving machines, spare parts and integrated services, opened the doors of its brand-new, state-of-the-art training center - ItemaCampus - in Lahore, Pakistan, on October 4, 2017.
...more
News Archive