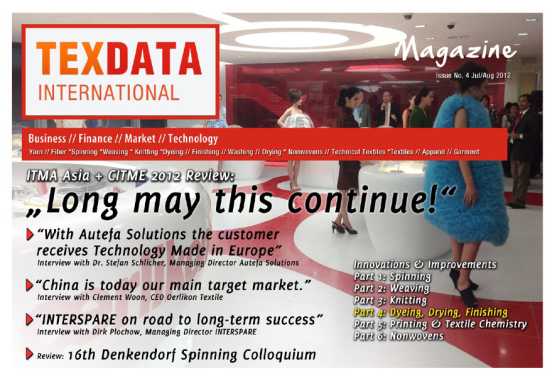 The topics are:

"Long may this continue!"
"With Autefa Solutions the customer receives Technology Made in Europe"
"China is today our main target market."
"INTERSPARE on road to long-term success"
16th Denkendorf Spinning Colloquium
Fashion show at Oerlikon headquarter in Shanghai

Innovations & Improvements:
Part 4: Dyeing, Drying, Finishing
TexData Magazine
We are proud presenting you the fourth issue of our TexData Magazine. You' ll will find 64 pages of fresh content free of any charge! Many thanks to our sponsor Monforts.

If you are already a subscriber to the TexData Infoletter or the TexData Magazine you'll get automatically an e-mail with the download-link.
Or you can download the latest version of the TexData Magazine two weeks after publishing here.Download now!


Please subscribe to the TexData Magazine for receiving a download-link for the next issues automatically.
Subscribe now!
Latest News