Weaving
2017-11-01
StäubIi at ITMACH in India
StäubIi, leading provider of shedding solutions for frame weaving, Jacquard weaving, and solutions for an automated weaving preparation process, invites visitors to its booth B41/C1 in Hall 6 at this year's ITMACH INDIA.
Cam motions and dobbies for every need

Visitors can experience the latest electronic rotary dobby S3260 in combination with the new Stäubli harness motion featuring the unique 'no maintenance' concept for all major parts of the harness motion. Highest running speeds and a reliable weaving process are only two of the many advantages the weaving mill will enjoy.

Electronic rotary dobby S3260 (c) 2017 Stäubli
Automated drawing-in for optimised workflow in any application
The preparation of warps is an important step before the weaving process itself. Stäubli offers SAFIR automatic drawing-in machines that draw into drop wires, healds, and reed rapidly and most precisely. As today's diversity of textile applications requires specialisation in greatly differing application areas, Stäubli offers the ideal solution for any application. Cotton weavers in particular appreciate how the SAFIR S40 produces standard fabrics using coarse-to-middle-weight yarns: denim, bed linen, shirt fabric, leisure wear fabric, and much more.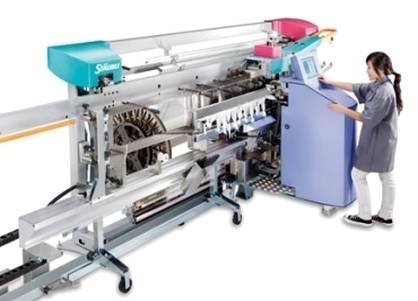 Stäubli SAFIR S40 (c) 2017 Stäubli
The Stäubli team will be glad to provide complete information on the extensive Stäubli weaving machinery range and solutions that stand out by virtue of their impressive service life, simple maintenance, and easy integration in any mill.
Related News
More News from Stäubli AG

Latest News