Textiles & Apparel / Garment
2015-07-17
Schoeller Textil brings a refreshing take on watersports apparel
Worldwide, specialty surf, paddle and yachting brands choose Schoeller for performance, durability and good looks June 2015: As summertime heats up and more people head to the water, the trends of high performance apparel follows. Many Schoeller fabrics are a superb choice for watersports.
Ocean athletes and river runners choose Schoellermade water-apparel for comfort thanks to 4-way stretch, water and dirt repelling functions, and durability; not to mention the clean designs that go from the water to town with ease.
The naturally quick-drying fabrics have a high level of comfort, and the addition of NanoSphere® means that water sheds easily and shorts and shirts don't stick to the body; therefore, the wearer can concentrate on the activity without being distracted by clothing stuck to the body. Schoeller textiles have been tested extensively for durability in the mountains and streets and now are finding a new application in the tough worlds of surfing and yachting.
Spartan Shorts made of schoeller®-dynamic Bluesmiths, a Schoeller brand partner based in Maui really set the bar with their Spartan Shorts in 2011. Made of schoeller®-dynamic and finished with NanoSphere®, they are considered among the top of the class of board shorts and are worn by the best surfers, sailors and paddleboarders in the world including Jimmy Spithill, the winner of the 2013 America's Cup.
From Everest Isles, the Mayol and Draupner board shorts also made of schoeller®-dynamic are a smart and sophisticated choice for the yachting set and deeply influenced by the sailing heritage of New Haven, Connecticut.
SUPSKIN in Austria offers an all-season dry suit made of a 3-Layer stretch Schoeller fabric with the bionic c_change™ climate membrane. The lightweight, waterproof breathable suit is easy to move in and has become an instant hit with professional and advanced paddleboarders globally, including Dan Gavere from the U.S.A. and Pete Holliday from the U.K. Outlier, based in Brooklyn, New York makes a water-ready, durable and stylish short called the Free Way using schoeller®-dryskin, a great fabric for this application due to its double-weave construction at moves with the body and has a tailored look.
Style, fit and function
Designers and athletes that love life on the water agree. Schoeller Textiles are the top choice for style, fit and function for serious watersports. By offering durable, comfortable, innovative fabrics and technologies that ideal for surf, river and open water applications, the only limiting factor is imagination. Additionally, Schoeller's bluesign® system fabrics are ideal for those who wish to keep the waters of the world as clean as possible.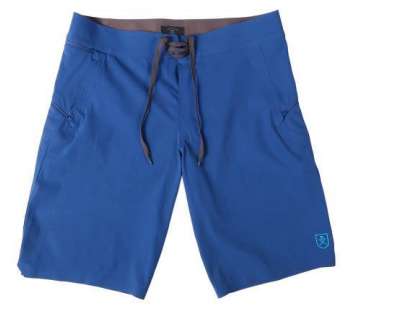 Pic: Spartan Shorts made of schoeller®-dynamic Bluesmiths
Related News
Latest News Textiles & Apparel / Garment
More News from Schoeller GmbH & CoKG

Latest News