Textiles & Apparel / Garment
2013-07-12
eschler®, a schoeller® brand: A mix of textures, structures and patterns

e1 circular-knit articles in different looks and appealing colors for active underwear (c) 2013 Schoeller
The knitwear from eschler®, a schoeller® brand makes a convincing impact in terms of function and unique appearance. Developed in Switzerland by the leading textile company in the area of woven and knitted fabrics and produced under ecological conditions on high-tech machines, the collection surprises with flexible and creative ideas. Innovative textures and structures lend the knitted fabrics a special performance through different constructions.
e1 Absorption: color, structure and function
The light e1 circular-knit articles in different looks and appealing colors are ideally suited for active underwear or sporty-elegant polo shirts. Whether as a fine ripstop in aubergine, sea-blue eyelet look or as a soft green piqué; the elastic polyester qualities all feel wonderfully pleasant against the skin. Interesting structures attract all eyes in the e1 polyester-lycra warp-knitted qualities that are ready for transfer print and suitable for biking, triathlon and running. Diamond patterns flash through from the reverse, carbon enhances different knit fabrics with an antistatic and antibacterial effect and elastic warpknitted fabrics for pants surprise with reptile texture.
The special feature of the sporty e1-Flash knit fabrics is a reverse in polyester and a polyamide outer side. Available, for example, in a compressive pants quality with check structure and coldblack® heat and UV protection technology or as a regular eyelet structure with antistatic carbon or irregular, casual eyelet look for inserts in pants.

e2 Insulation: checks, plain colors and melanges
Checks are the big theme for summer 2015: Eight different print designs, each available in four to six colour combinations, look just as good in the mountains as they do worn for an after-work drink. The pleasantly warm, light e2 polyester qualities with active>silverTM freshness finish are available to match in different plain colours.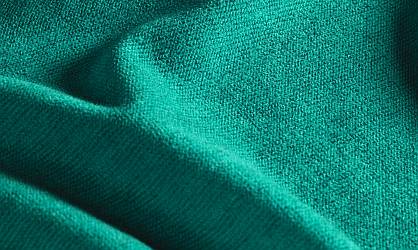 Pic: e2 fleece knitted goods
Of course a range of different high-quality e2 fleece knitted goods is also offered. The light knits are brushed on one side with a melange look for T-shirts or as a heavier version, brushed on both sides, for fleece pullovers or jackets.

e3 Protection: embossed, printed and functional
Embossed loops in the same shade lend the white or black, elastic e3-softshell knit fabrics a sporty elegance. With the cozy, soft, brushed reverse and controlled air permeability, they ensure pleasant wearing comfort on the ski slopes or riding. A special 3 layer knit spacer construction that can e used for riding and skiing wear, accessories or inserts is characterized by water and wind proofing and a high level of breathability. They are available in polyester/Lycra for transfer printing as well as in polyamide/Lycra in custom colors.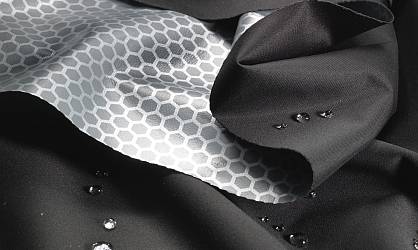 Pic: e3+ knit fabrics with different printed membranes
e3+ Protection Plus: lightness, weather protection and breathability
Outstanding weather protection is offered by the super light 3 layer or 2 ½ layer laminate in the e3+-product line. Lined with a net and suitable for taping, the vibrant orange bike and outdoor quality is ideal for very light rain jackets that can pack extremely small. Similarly wind and waterproof, as well as permeable and suitable for taping, are the 2 ½ layer polyester knit fabrics with different printed membranes that can now be used unlined.
Related News
Latest News Textiles & Apparel / Garment
More News from Schoeller GmbH & CoKG

Latest News