Textile chemistry
2018-09-20
Covestro promotes entrepreneurship in chemistry
Start-ups in chemistry stand for innovation and entrepreneurship, but deserve more attention. With new awards for young start-up teams and university spin-offs, Covestro is setting an example for the chemical industry: the best ideas will be systematically promoted and linked with the economy. The polymer company has honored founders with ideas for innovative, sustainable materials both in the context of the University Innovation Challenge in Frankfurt am Main and at the new Chem Start-up Award in Cologne.
"Groundbreaking ideas for more sustainable solutions in the chemical industry arise especially when we listen to young entrepreneurs and work with them. With the new awards we want to open the right doors faster for the most promising ideas", said Dr. Markus Steilemann, CEO Covestro. "Curiosity, courage and diversity determine our corporate values. We want to push the boundaries of what is feasible - and especially together with start-ups."
Start-up awarded for Future Materials
Steilemann presented the prize in the Future Materials category at the University Innovation Challenge in Frankfurt am Main to the start-up company Bipolymer Systems. The young company from Duesseldorf has developed a sustainable compound material that converts heat into electricity and could help shape the generation of energy in the future. The University Innovation Challenge was initiated by Goethe University in Frankfurt and the German business newspaper Handelsblatt in order to bring the results of university research in Germany into contact with business more quickly. Candidates from all German-speaking universities were eligible to apply.

The start-up Bipolymer Systems also received a special "Challenge & Win" prize for Future Materials sponsored by Covestro as part of the new Chem Start-up Award. The first German start-up prize specifically for business ideas in the chemical industry was launched by the regional industry network ChemCologne together with numerous partners at the European start-up conference StartupCon in Cologne.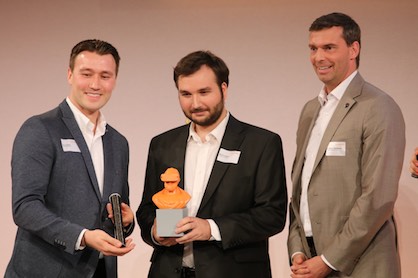 The founders of Bipolymer Systems, Artur Steffen (left) and Martin Huber (m.), win the Future Materials Award of University Innovation Challenge, handed over by Dr. Markus Steilemann, CEO of Covestro (c) 2018 Covestro
Related News
Latest News Textile chemistry
More News from Covestro AG

Latest News