Textile chemistry
2018-01-26
New 'universal' option in ARCHROMA'S SMARTREPEL® HYDRO range

Archroma's micro-encapsulated technology uses a repelling agent and anchoring agent that together create a perfect symbiosis of water protection, breathability and durability. (Photo: Archroma)
Archroma, a global leader in color and specialty chemicals, introduces the latest addition to its range of highly biodegradable, non-PFC based durable water repellent protection, the Smartrepel® Hydro series.
Smartrepel® Hydro AM is the latest addition to Archroma's distinctive non-PFC based durable water repellent protection range
New, advanced 'universal' formulation for cotton and synthetic fabrics, 'boosted' durability of the effect, and smoother processability in application
Product introduction at ISPO, January 28-31, 2018, Munich, Germany
Smartrepel® Hydro is a nature-friendlier protection agent based on distinctive micro- encapsulated, highly biodegradable, non-PFC based technology offering exceptional, durable water repellency to polyester, polyamide and cotton-based textiles.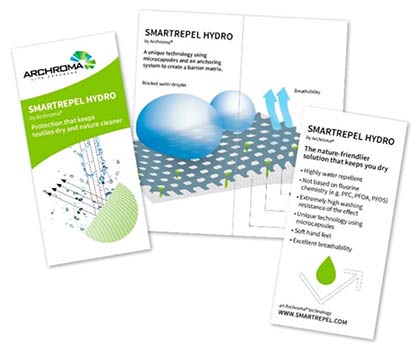 Smartrepel® Hydro by Archroma, a new generation of non-fluorine chemistry that meets criteria for non-PFC based finishes and clothing. (Photo: Archroma)
With the increasing demand for more sustainable clothing and gear, Smartrepel® Hydro water repellent agents extend the benefits of high-performing, nature-friendlier protection to the full spectrum of fibers used in today's outdoor and sportswear segments.
With Smartrepel® Hydro AM, Archroma offers to brands, retailers and textile manufacturers a new, 'universal' water repellent protection that is applicable on all fibers - cotton and synthetic, and their blends.
Smartrepel® Hydro AM comes with a new advanced formulation.
The new grade offers the signature Smartrepel® Hydro high performance standard: a perfect symbiosis of water protection, breathability and durability – with the soft hand-feel that is sought after by consumers;

The durability of the effect can be 'boosted' up with the application of a special formula, allowing brands and retailers to offer high performance gear to their brand fans;

For textile manufacturers, the new formulation shows improved runnability and reduced roller buildup, allowing seamless application in both pad and exhaust application processes.

The range supports the increasing adoption of eco-advanced materials and production processes by brand owners and textile producers adhering to industry initiatives such as the ØZDHC program or eco-label standards such as bluesign® and Oeko-Tex®.
"This advanced version of our Smartrepel® technology combines, into one product only, two benefits that are sought after by outdoor brands and retailers: a nature-friendlier chemistry, together with long-lasting, efficient water repellency for all fibers. Smartrepel® Hydro AM brings onto the market a positive alternative to conventional fluorocarbon-based water repellency products," comments Georg Lang, Global Head of Product Marketing Finishing, Textile Specialties, at Archroma.

For more information on Smartrepel® Hydro, please visit our dedicated page: http://www.smartrepel.com.

Related News
Latest News Textile chemistry
More News from Archroma Textile Specialties

Latest News