Spinning
2023-09-14
Becoming an expert in spinning with Rieter's Customer Trainings

Rieter's customer training covers the entire range of machines, from blowroom through to winding. © 2023 Rieter
Continuous learning pays rich dividends. Rieter's customer trainings help unlock the full potential of the mill's technical team and maximize the benefits of the products. It is therefore crucial to invest in the workforce's know-how so they can utilize machines most effectively.
Rieter firmly believes that training goes beyond a one-time event; it is a continuous process that empowers mill technicians to achieve unparalleled success in their daily business operations. State-of-the-art technology, advancing automation and fast-changing market requirements increasingly call for expertly trained staff in spinning mills. For more than 35 years, Rieter's training programs have been addressing exactly these challenges.

The trainings provide detailed insight into the machines and how to minimize conversion costs to have a positive impact on the spinning mill's bottom line. Customer trainings have been offered on several topics as outlined below and at various levels. The trainings are being conducted by professional Rieter trainers who bring decades of experience in the textile industry along with a strong passion to impart knowledge.

The Right Training Can Make a World of Difference

Training programs help customers understand the value proposition of a product, explore its features and benefits as well as discover innovative ways to leverage its capabilities. By facilitating a smooth onboarding process and ensuring customers feel confident in using the product, businesses can accelerate adoption rates, maximize machine lifetime and gain a competitive edge.

Customers can choose trainings on-site in their own spinning mill, called INmill trainings, which help the technical team make sure that all qualitative and quantitative resources of their machines are used to the fullest potential.

The trainings in Rieter facilities in Europe or China are called INclass trainings, where participants benefit from hands-on experience on installed machines in well-equipped classrooms including the possibility to interact with the Rieter management team as part of the mill management training. The trainings are conducted by Rieter customer education specialists and provide ideal and real-life training environments.

There are four categories of trainings offered by Rieter for both INmill and INclass options: Machine Training, Electrical Training, Process Management and Mill Management. The training duration lasts from minimum two to maximum seven days, depending on the type of training program customers decide to sign up for. Rieter also offers customized trainings as per the customer's needs. These trainings help get the most out of the installed base. The training is offered for all Rieter machines, from blowroom to winding.

Machine Training: Getting the Best out of the Machines

The machine training equips participants with the necessary know-how and skills to utilize a product effectively. Today, spinning machines are easy to operate . Even so, high utilization and efficiency can only be ensured if maintenance settings and professional troubleshooting are optimized. Machine learning allows businesses to proactively address common challenges, anticipate problems and deliver solutions effectively.

"The Rieter customer training team has conducted an INmill machine training for fiber preparation and draw frame machines at our mill in Egypt. The training was extremely valuable and effective. Our operating personnels highly benefited and started implementing the acquired know-how in their daily work which positively impacts the mill's overall efficiency and productivity"

Omar Fata and Ibrahim Fata, mill owners of Rose Yarn, Egypt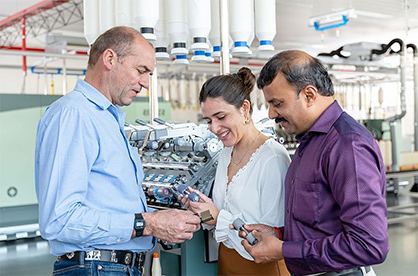 Comprehensive INmill hands-on machine training. © 2023 Rieter
Electrical Training: A Deep Dive into Electrical Refinements

When a highly productive spinning machine stands still because of an electrical problem or faulty running, this may result in considerable production loss. Hence, it is necessary to detect and solve problems quickly. This can only happen when staff are highly trained.

Process Management: Optimizing the Spinning Process for More Value Thanks to In-Depth Expertise

This training improves the expertise in the spinning process and enhances value throughout the value chain. By minimizing support costs, businesses can allocate resources more efficiently, invest in innovation and focus on strategic initiatives.

Process training can significantly reduce support costs. Highly trained customers are less likely to encounter problems or require extensive support. Training programs can address frequently asked questions, troubleshoot common issues and provide step-by-step guidelines enabling operators to overcome operational challenges.

"The trainer and his training content were excellent and exceeded our expectations. We were trained in process management with focus on control techniques in the whole spinning line. The knowledge gained has empowered the team to optimize the spinning process, resulting in an enhancement of the overall mill efficiency and the understanding of the processes. The online training support given by the Rieter winder team as well added value to us"
Srihari Devarajan, Director Process Improvement, Parkdale, Inc., USA.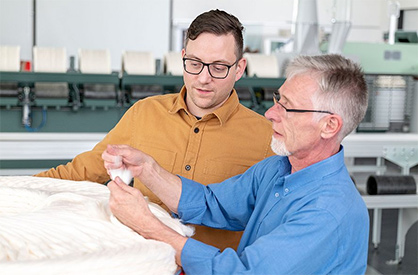 In-depth process management training to gain a competitive edge. © 2023 Rieter
Mill Management: Making More Money by Fixing Economic Leaks

Apart from the technical know-how, it is of utmost importance that the mill management team can detect hidden economic inefficiencies in the spinning process and can take measures to control them. Designed around the specific challenges spinning mills face regarding cost and quality requirements, Rieter developed a training module called the mill economics training course. It covers the key success factors of spinning mills: productivity, quality and conversion costs. The mill economics training aims to connect theory with practice and provides insights in how to increase profit margins while producing consistent yarn quality.

Customized Training Programs

Rieter also provides customized trainings to ensure sustainable production and top mill performance. Thanks to a modular concept, customers can design their own training programs according to their needs, focusing on a specific machine type and challenges they are facing.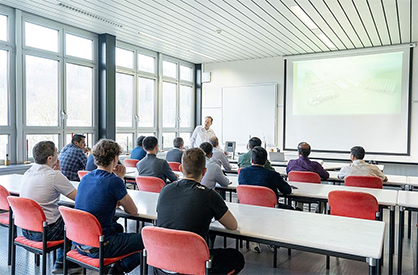 INclass customized training for customers. © 2023
In today's rapidly evolving market, staying ahead of the competition is essential. Customer trainings can be a key differentiator for businesses. By offering comprehensive and innovative training programs, spinning mills underscore their commitment, invest in their workforce and position themselves as industry leaders.
For more information, please register by visiting our website at:
https://www.rieter.com/services/after-sales/customer-training and select your favorite training program.

Related News
More News from Rieter Textile Systems

Latest News