Spinning
2023-09-07
Rieter incorporates traceability in fiber preparation using Haelixa technology
Rieter has signed a contract with Haelixa, an award-winning spin-off of the Swiss Federal Institute of Technology (ETH), to integrate traceability technology into its spinning process. This makes Rieter a first mover among spinning machinery manufacturers to incorporate physical traceability that marks fibers during yarn production. The integration into Rieter spinning systems makes yarn manufacturers the go-to partners for textile brands in their pursuit to improve transparency across supply chains.
Textile supply chains are known for their complexity and lack of transparency, with manufacturing taking place in fragmented process steps across different geographic regions. But consumers and fashion brands are increasingly calling for a traceable physical fingerprint to provide forensic evidence of the origin of textile materials, with tightening regulations increasing pressure. Combining Rieter's expertise in processing short-staple fibers with Haelixa's technology will create more visibility and resiliency in supply chains based on a solution that seamlessly integrates into existing spinning systems.

Traceability Solution Available for Retrofitting

Rieter and Haelixa have completed joint in-house testing and validation, resulting in the launch of an automated application of the DNA marker in Rieter spinning systems, which will become available to customers in the coming months. A spraying system distributes unique DNA markers during mixing to ensure that every fiber is physically marked. With this, the presence of the original fibers during manufacturing can be verified later on through testing.

The solution can be included in new machinery or retrofitted in existing equipment. In a first step, Rieter has incorporated the automated sprayer into their fiber mixing machines UNImix B 72 and B 76, with retrofits also available on other machine types.

Validating Product Claims, Improving Transparency

Every manufacturer across the value chain, including fashion brands, will be empowered to substantiate product claims such as desired product blend, manufacturing location and ethical standards. The material is marked as early as possible in the spinning process to ensure these product claims are credible. This occurs in the blowroom, where short-staple fibers are opened and cleaned.

Each spinning mill can apply multiple customized DNA markers in accordance with the requirements of their different customers. Material marked with a DNA marker can be mixed with unmarked material at a later stage, for example, when processing a blend of recycled and virgin cotton. Depending on the desired product blend, the corresponding amount of DNA marker will be applied in the blowroom so it can be traced through to the final product.

The DNA marker is designed to withstand all mechanical and chemical stresses during production, such as carding, weaving, stone washing, bleaching, heat treatment, and others. The marker does not harm humans or the environment and does not alter the fibers' properties, appearance, or processability.

Rico Randegger, Head of Business Group After Sales, Rieter, says: "We are proud to partner with Haelixa to help our customers set themselves apart through an innovative solution that creates much-needed transparency across textile supply chains. This solution also underscores the importance of yarn manufacturing in making the textile value chain more equitable, inclusive, and sustainable."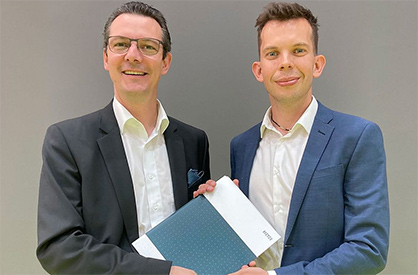 Rico Randegger, Head of Business Group After Sales, Rieter and Gediminas Mikutis, Co-Founder and CTO of Haelixa © 2023 Rieter
Gediminas Mikutis, Co-Founder and CTO of Haelixa, added: "In the textile industry, there is a need to revolutionize the journey from fiber to finished product. With Rieter, we set a new standard for how seamlessly physical traceability can be added to existing processes. By integrating our DNA solution with cutting-edge textile machinery, we offer brands an opportunity to mitigate risks in their supply chains."
Related News
More News from Rieter Textile Systems

Latest News