Spinning
2021-07-01
New senior management appointments strengthen Loepfe team
The first of the new hires is Jürg Schneider who joins Loepfe as Head of Sales & Service. As well as 25 years of global experience in sales, after-sales, services, marketing and engineering, Jürg has also led digital transformation and business process automation projects. Meanwhile, increased focus on customer success will also come from long-serving staff member Silvano Auciello who will work closely with OEM customers in the spinning segment as the key account manager.
Stefan Imfeld is the second newcomer to Loepfe and joins the company as Head of Production within the newly combined Materials Management and Production business stream. Stefan has a background in industrial engineering management, which has included senior level experience in the textiles and metrology sectors. He will be supporting Rolf Kunz who brings many years of Loepfe experience to managing the material flows from Loepfe's suppliers to end customers.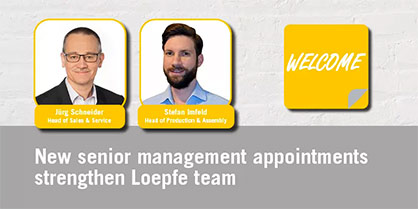 © 2021 Loepfe
Jürg Schneider said: "Undisputed customer centricity and today's digital toolsets, along with dynamic exchanges and communication ensure we can properly understand user needs. I whole-heartedly look forward to driving the business forward, based on this approach and together with this great team."

Stefan Imfeld commented: "Many thanks to my new Loepfe colleagues for their warm welcome! Creating an environment where seamless quality thrives begins with the accurate translation of customer needs into the intelligent use of latest materials and technology. This is a truly transformational time for Loepfe and I am excited to be part of the team."
Dr. Ralph Mennicke, CEO of Loepfe Brothers Ltd. added: "We are delighted to work with both Jürg and Stefan as part of the Loepfe family. Their contributions will be central to our success as we continue to align our business to capitalize on digital technologies. Our strategy is to match customer needs with finest quality smart sensor technology to power productivity in the spinning and weaving sectors. And, by combining Materials Management and Production into one single business stream, we are creating a holistic approach to our end products. Our customers can look forward to many new Loepfe initiatives with our partners worldwide."
Related News
More News from LOEPFE BROTHERS LTD.

Latest News