Shanghaitex 2017
2017-11-27
Textile for smarter future - ShanghaiTex 2017 grandly unveiled monday!

Todays opening: 1,200+ top-notch exhibitors from local and overseas exhibit at ShanghaiTex 2017 (c) ShanghaiTex 2017
The 18th International Exhibition on Textile Industry (hereinafter as "ShanghaiTex 2017"), the prime biennial event of the industry is unveiled monday (27 November) at Shanghai New International Expo Centre, Pudong, Shanghai, PR China. Based on the sound achievement accumulated in the previous editions, ShanghaiTex 2017 will extend its success to some cross-boundary technology segments.
The show consolidates traditional textile manufacturing industry as well as leveraging the innovative textile technology for buyers to preview the future industry trend. A series of technical seminars, product display and design competition will be held concurrently to facilitate industry players to grasp the opportunities lying in the textile industry.

ShanghaiTex 2017 covers 9 exhibition halls with an exhibition area exceeding 100,000sqm, accommodating over 1,200 exhibitors from 26 countries and regions to present world-class textile machinery and the latest technology. The exhibition hall was crowded with visitors from around the world on the first day. It is expected to have over 60,000 professional trade visitors and buyers in attendance for this fruitful textile feast this year.

The Organizer of the exhibition guided industry VIPs around the halls to view the advanced technology & machineries on display, including Mr. Wang TianKai, Chairman of the International Textile Manufacturers Federation, Mr. Gao Yong, Secretary of the Party Committee of China National Textile And Apparel Council, Mr. Cao JiaChang, Chairman of China Chamber of Commerce for Import and Export of Textile and Apparel, Mr. Yang JiChao, Vice-Chairman of China National Textile And Apparel Council, Mr. XuYingXin, Vice-Chairman of China National Textile And Apparel Council/Executive Vice President of The Sub-Council of Textile Industry, CCPIT, Mr. Duan XiaoPing, Vice-Chairman of China National Textile And Apparel Council, Mr. Liu HaiTao, President of China Hi-Tech Group Corporation, Mr. Ye MaoXin, Vice-President of China Hi-Tech Group Corporation/General Manager of China Textile Machinery (Group) Co., LTD., Mr. Chen XingQiang, Vice-Chairman of China Textile Machinery Association, together with more than ten provincial textile associations from all over China and distinguished guests from certain textile industry clusters.

Renowned Exhibitors Displaying Their Cutting-edge Technology at 7 Theme Zones

ShanghaiTex 2017 covers 7 theme zones, including "Knitting & Hosiery Machinery Zone", "Printing, Dyeing & Finishing Machinery Zone", "Spinning & Techtextile Machinery Zone", "Weaving Machinery Zone", and "Spare Parts and Accessories for Textile Machinery Zone" etc. with full range of professional exhibits. Visitors can explore wide applications from the view of different lifestyles, stimulating innovation and inspiration on textile products, technology applications as well as production solutions.

Other than the traditional "Knitting and Hosiery Machinery Zone", a special "Sports Textiles Technology Zone" is also located in halls W1 and W2, in response to the fitness boom and to explore the high value-add brought by the expanding sportswear market. Leading Chinese and international enterprises including Groz-Beckert, Santoni, XinGang, JinLong etc. are aiming to bring the latest industry development and market opportunities to all industry buyers.

The "Printing, Dyeing & Finishing Machinery Zone" and "Digital Printing Machinery Zone", located in halls W3, W4 & W5, also gathers industry leading exhibitors, including Fong's National Engineering, Mouvent, Reggiani, Atexco, JiLong, Yoantion, YingYou etc. Focusing on small batch production in the customization trend, this sector will unleash green and sustainable solutions for flexible production.

The "Spinning & Techtextile Machinery Zone", located in halls E1 and E2, brings together the industry leaders, such as China Textile Machinery, Savio, Truetzschler, Pacific Mechatronic Group, HaoChang etc.

The "Spare Parts and Accessories for Textile Machinery, Testing and Auxiliary Equipment Zone "located in halls E3 and E4, have also gathered representative exhibitors such as Guangye, Jingda, Bosch Rexroth, Contitech, Changshu Textile, YongXuSheng etc.

Must-Attend 9 Concurrent Events & Experience 3D fitting

To enrich the experience of our valued buyers, the organizers of ShanghaiTex 2017 have prepared a series of splendid concurrent events with different industry organizations, renowned exhibitors as well as university professors. The thematic conference topics include Sports Tech, Smart Production, Eco-Denim and Digital Print, which enable visitors to learn about the latest textile technology and grasp new business opportunities.

2017 Shanghai International Intelligent Manufacturing Forum was held on November 27th, the opening day of the show, at Doubletree by Hilton Shanghai-Pudong (No. 889 South Yanggao Road, Pudong, Shanghai). At the theme of "Smart Textile Manufacturing Innovation and Development", the forum discussed certain hot topics like textile intelligent manufacturing status and trend, the applications of textile intelligent manufacturing etc. Five reports were delivered this afternoon, which are: "Development Trend of Modern Textile Intelligent Manufacturing" by Mr. Zhu XianMin, chief engineer of China Textile Machinery Association; "Analysis of the Demand and Development Path of Robot Technology for Textile Processing" by Mr. Chen Ge, vice-president and professor of Donghua University; "Intelligent Spinning Solution" by Mr. Zhang YanSheng, general manager of sales company in China Textile Machinery (Group) Co., Ltd.; "Big-data-driven Framework for Intelligent Textile Manufacturing" by Ms. Zhang Jie, Dean of College of Mechanical Engineering, Donghua University and "Finding Your Way to Industry 4.0: Optimizing the Production Line" by Mr. Mark Harrop, CEO of WhichPLM Ltd.

The "Textile Industry 4.0 Form" was successfully held today (27 November) at hall E1, which gathered international experts to discuss the latest smart solutions for textile industry. Another show highlight, the "Smart Factory & C2M Experience Zone", is also located at hall E1, which showcased a 3D fitting bus. Numerous visitors have experienced the fast 3D body scanning technology on the bus, which took only a few seconds to measure their body sizes for producing a perfect fitting business shirt.

Another seminar, "The Sports Bra-ology" was also held today to pose some challenges that many lingerie brands are facing and shared how industry players can overcome these challenges. Mr. Notes Luk, visiting lecturer from the Hong Kong Polytechnic University has shared his rich experience on intimate apparel industry with a focus group discussion on sports bra wearing experience. They gave constructive advices on comfort, support, shoulder strap design and function, indicating the broad prospects of the lingerie market.

One of the exhibitors, Xin Gang Textile Machinery, has showcased their innovative R&D product—double needle bed wrap knitting machine, which is 2-3 times faster and efficient than other congeneric machinery. Many on-site visitors have witnessed its first publish on the first day of ShanghaiTex 2017 (27 November) at booth W2B18.

As the digital printing competence center of the Bobst Group – Mouvent has made its first public appearance in China during ShanghaiTex 2017, showcasing groundbreaking digital textile printing solutions at booth W5G01. There was a press event today (27 November) to present its latest generation digital textile printer TX801 at their booth. Mouvent is dedicated to exploring, creating and delivering the future of digital printing, interested visitors are welcome to meet with their expert team at ShanghaiTex 2017.

To cater for the show highlight of sportswear, digital printing and smart production, there will be "The Evolution of Sports Shoe Tech" (29 November), "Digital Printing Trend Forum – Conclusions and Innovation" (29 November) and "Smart Textiles Innovation Forum" (28 November) to showcase the latest developments in smart textiles and inspire the industry with innovative ideas on high-growth potential market segments.

Following events will be held on 28 November:

Two technical forums at E1-M11: Combing and Spinning.

"Buyer's Forum : MARKS & SPENCER- Plan A 2025" and "ECO-Denim/Finishing Forum", will be held at hall E1 to discuss the latest green solutions and sustainability with industry players.

Furthermore, "Sports Arena" at hall W1 will showcase smart textile technology, sportswear etc. during the show period. There will also have a catwalk performance cooperated with renowned exhibitors Santoni, Chemax, Cixing, Regianni and Antelope to demonstrate future technology trend.

The "Wearable Technology X Textile Design Competition", cooperated with the Hong Kong Polytechnic University, Shanghai University of Engineering Science, Zhejiang Sci-tech University and wearable technology company Antelope, has lasted 7 months and attracted 21 worldwide young designers from textile, fashion, electronics, engineering and other related fields. The final assessment and award ceremony will be held at ShanghaiTex 2017 on 28 November, the shortlisted participants will be invited to present and showcase their work on-site to worldwide textile industry insiders. Visitors can attend the presentation at hall W1 Sports Arena to experience the integration of technology, fashion and creativity.

Professional Buyers Gather at this Biennial Textile Event

ShanghaiTex 2017 has been widely supported by professional buyers from textile industry around the Globe. Over 70 industry associations and enterprises have confirmed or intended to attend, including China Cotton Textile Association, China Filament Weaving Association, Hangzhou Textile Industry Association, Jiangsu Textile Popular Color Association, Shanghai Home Textile Association, Henan Textile Industry Association, Zhejiang Seamless Weaving Industry Association, Taiwan Textile Federation, Thai Weaving Industry Association (TWIA), Association of Thai Textile Bleaching, Dyeing, Printing and Finishing Industries (ATDP), Association of Garment, Textiles, Embroidery and Knitting (AGTEK), Vietnam Cotton and Spinning Association (VCOSA), Daegu Gyeongbuk Textile & Weaving Association, Malaysian Textile Manufacturers Association(MTMA) and Indonesian Textile Industries Association(API) etc. Worldwide delegations from Korea, Malaysia, India, Indonesia, Sri Lanka and Pakistan will also visit and do business at the show.

Furthermore, ShanghaiTex 2017 is highly supported by many renowned sportsand apparel brands. Marks & Spencer, Nike, Li-Ning, Triumph, Decathlon, ANTA, Li & Fung, H&M, C&A, Under Amour, VFC, TUMI etc. are coming to visit and purchase onsite.

Impressions from the show: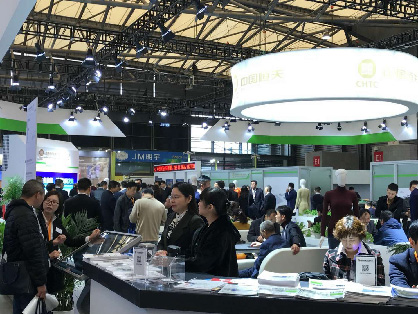 (c) ShanghaiTex 2017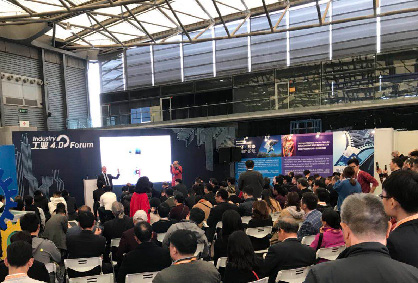 (c) ShanghaiTex 2017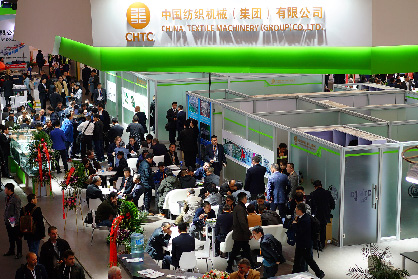 (c) ShanghaiTex 2017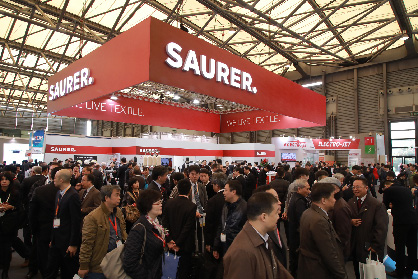 (c) ShanghaiTex 2017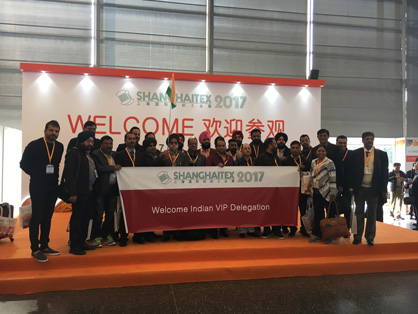 (c) ShanghaiTex 2017
Related News
Latest News Shanghaitex 2017
More News from ADSALE PUBLISHING LTD - ATA JOURNAL

Latest News