Textiles & Apparel / Garment
2023-03-29
Freudenberg launches apparel industry's first 100% rTPE base content interlining series

Freudenberg´s 100% rTPE base content interlining light weight © 2023 Freudenberg
Freudenberg Performance Materials Apparel (Freudenberg) is expanding its Super Elastic Interlinings Range with the introduction of the apparel industry's first 100% recycled thermoplastic elastomers (rTPE) base content interlining series. In recognition of the growing use of elastic interlinings in apparel and building on the principles of Freudenberg Performance Materials´ Apparel's House of Sustainability, these new products speak for Freudenberg's ongoing dedication to high-quality and sustainable solutions, with responsible products in every season.
The new, 100% rTPE base content interlinings are offered in 40-90 g/m2 weights, with wide applicability – from lightweight knit fabrics with applications in leggings and sports bras to elastic woven fabrics that require medium-to-heavy weights, such as denim, maternity clothes, or casual wear. Sustainable without compromising on quality, the new interlinings offer exceptional elasticity and retain excellent recovery capabilities.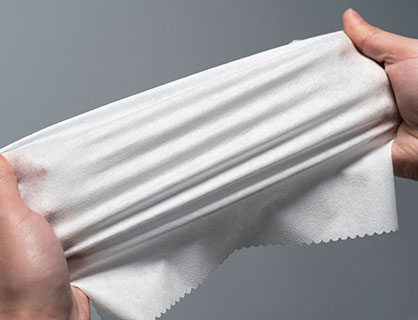 Freudenberg´s 100% rTPE base content interlining medium weight © 2023 Freudenberg
In addition to the newly-launched 100% rTPE base content interlinings, Freudenberg also offers interlinings from the XB and UE Series. The XB Series are nonwoven interlinings, available in 40-72 g/m2 weights, offering a soft hand feel and light-to-medium weight options with high wash durability. These interlinings can be used across sportswear and fashion segments in areas such as cuffs and the waistbands of leggings.

The UE Series is available in 153-220 g/m2 weights, offering high elasticity, good recovery, and strong support. Furthermore, the mesh structure ensures excellent breathability, with application to garments like sports bras.

Freudenberg offers a complete range of super elastic interlinings to the market and delivers greater possibilities in active and casual styling – from the soft-to-the-touch, light-to-medium weight, and durable XB Series and the exceptional elasticity and recovery of the 100% rTPE base content additions, to the mesh structure of the UE Series that offers both strong support and breathability.

Responsible products in every season

Freudenberg Performance Materials´ Apparel's House of Sustainability is a major initiative designed to assist customers in enhancing the sustainability of their garment products and building towards a more sustainable future. Offering the latest innovations and solutions from its House of Sustainability that combine functional and environmental benefits, Freudenberg supports sustainable garments for people and the planet through all manufacturing seasons.

Launched for the summer manufacturing season, the 100% rTPE base content interlinings reduce the need for virgin materials in apparel while also reducing the demand for the extractive practices necessary to produce such materials. Furthermore, the use of recycled components reduces materials in landfills and oceans, in consideration of full-garment lifecycle management.

Through ongoing technological and operational development, Freudenberg will continue to generate new solutions that are better for customers and the environment.
Related News
Latest News Textiles & Apparel / Garment
More News from Freudenberg Group

Latest News