Recycling
2023-09-21
Vivobarefoot partners with Circ to pioneer chemical recycling for footwear
Footwear manufacturer Vivobarefoot and textile-to-textile recycling company Circ unveil an industry-first partnership that will utilize cross-industry collaboration to overcome known design challenges in developing circular solutions.
Shoes are notoriously difficult to recycle. An estimated 20 billion pairs end up in landfill each year, their many different components (sole, upper, laces, eyelets, reinforcements) and materials defying traditional textile recycling technologies. Footwear's complexity exacerbates challenges in developing circular solutions because it requires coordination and collaboration from many value chain players. Early intervention in the design of future products, which considers the perspectives of end-of-use providers, is critical to changing this dynamic.

Now, two B Corp companies are on a mission to do exactly that, united by a shared purpose of using business as a force for good. Natural health brand Vivobarefoot, well-known for making barefoot footwear, has partnered with textiles recycling company Circ to design and develop footwear uppers made entirely of a single material (polyester) that can be chemically recycled and reused in the production of new footwear without the need to add any virgin materials. Their partnership also serves as an opportunity to set the benchmark for what it means to have a "recyclable" product, something that has yet to be well-defined in the apparel and footwear industries.

Central to the partnership is a true collaborative spirit. Circ has dedicated its research and science team to the meticulous testing of Vivobarefoot's footwear components and constructions, ultimately sharing their findings with Vivobarefoot's product team to influence the development of new footwear styles. Circ believes that by working directly with designers and developers to understand the recyclability of each of their new styles from the beginning, we can enable true circularity from the start and shift the footwear industry towards circularity as the norm.

Developing a fully recyclable shoe will require substantial cross-industry collaboration that brings together stakeholders from across the value chain, beginning with Vivobarefoot and Circ. While – subject to testing and results – the partnership will culminate in the launch of Vivobarefoot's Primus Circular footwear line in Autumn 2024, the journey is as heavily weighted as the product. Vivobarefoot and Circ will lay the groundwork for a blueprint for recycled footwear by identifying and inspiring the industry to solve common design pain points, roadblocks, and challenges.

"Our north star goal at Vivobarefoot is to develop performance footwear that is both durable and fully recyclable – and for us that means being able to use our recycled materials to make new footwear, rather than downcycling them. This first-of-its-kind collaboration moves us a step closer to that goal, giving us the ability to make product design and development decisions based on science, which we've never been in a position to do before," said Charlotte Pumford, Vivobarefoot's Head of Regeneration. "

There are several existing footwear brands already using mechanical recycling to provide alternative end-of-use pathways for their products. This involves shredding and grinding the materials for reuse, but often these materials are turned into products that cannot be recycled in the future, ultimately committing them to landfill.

In contrast, Circ's proprietary technology breaks down cotton and polyester from textiles into their fundamental molecules, allowing them to be rebuilt into high-quality lyocell and polyester that are competitive with virgin materials and can be recycled multiple times.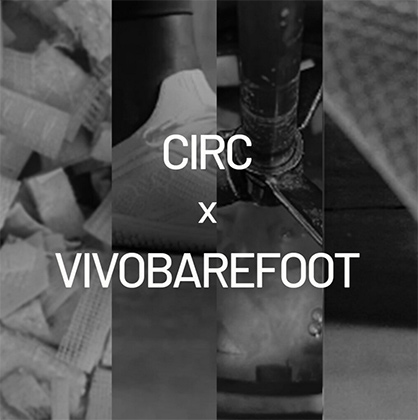 © Circ 2023
As a leader in textile-to-textile recycling, Circ is now embracing the challenge of expanding its remit beyond apparel to explore chemical footwear recycling with Vivobarefoot.

"Shoes are a complicated and challenging problem for recyclers that, to solve, necessitates incorporating circularity into the design from the start. Transforming shoes will take time and effort. That is why having the right partners is so important. When we met the team at Vivobarefoot, we immediately knew we had found a like-minded and committed team who lived sustainability and circularity. Their passion for the planet mirrors ours, making them a natural fit. Together, we plan to push the limits of sustainable design and drive the necessary innovation for the next generation of circular footwear." said Luke Henning, Circ's Chief Business Officer.

Related News
More News from TEXDATA International

Latest News