Raw Materials
2022-11-16
World Cafe 2022 to address the evolving global textile supply chain during ICAC plenary meeting
In recent years, the ICAC has committed to dramatically increasing its emphasis on textiles and that commitment will be on full display during the 80th Plenary Meeting's World Cafe session. The theme for 2022 is 'The Evolving Global Textile Supply Chain' and the session will feature input from industry experts in Argentina, Bangladesh, Brazil, India, Pakistan and the USA.
Executive Summary

The World Cafe at the ICAC's 80th Plenary Meeting:

Will provide multiple perspectives on 'The Evolving Global Textile Supply Chain'
Will include feedback from industry leaders who are holding group discussions in six major regions: Argentina, Bangladesh, Brazil, India, Pakistan and the USA

Each discussion will include 6-8 supply chain experts, who will answer a common set of questions

Each leader will make a short video that highlights the ideas and suggestions given by the participants in their groups

A 30-minute video summarising all of the findings from all of the groups will be played, followed by 30 minutes of audience Q&A

A leader from each of those countries has assembled a 'table' of 6-8 experts and discussed six common questions regarding the future of the global textile supply chain. When their discussions are over, each leader will summarise the thoughts and suggestions from the participants in a short video; those six videos will be played at the beginning of the World Cafe, followed by a live Q&A session between the six discussion leaders and the audience.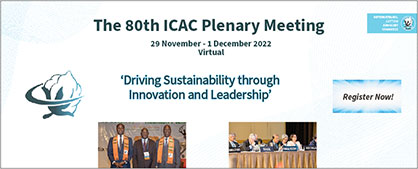 The World Cafe will be held on 1 December 2022 from 11:10 am – 12:10 pm (GMT-5). The virtual 80th ICAC Plenary Meeting, with the theme 'Driving Sustainability through Innovation and Leadership', will be held 29 Nov - 1 Dec and attendance is free to all.

To see the agenda and register:
https://icac.org/Meetings/Details?eventId=1219.[P:

Related News
Latest News Raw Materials
More News from International Cotton Advisory Committee (ICAC)

Latest News