Nonwovens / Technical Textiles
2023-02-16
VEOCEL™ achieved global consumer social activation to explore the meaning of 'care'
In 2022, VEOCEL™ rolled out a series of consumer activations across Europe, the U.S. and Asia to inspire and engage communities to care for the environment and motivate millennials and Gen Z to explore the meaning of care as part of the VEOCEL™ 'Cares for the future' campaign.
Through social media channels and content, the goal of the global campaign is to broaden what care means at each stage of one's life, empowering consumers from different parts of the world to join in to care for the environment starting and sharing their stories to inspire others.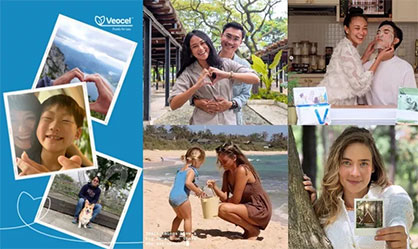 © 2023 VEOCEL™
In Asia, VEOCEL™ partnered with environmental activist and singer Chet Lam on a social media campaign and a specially curated "#IDo Pledge" video which represents a life-long commitment to caring for nature and protecting the environment for future generations. The brand also collaborated with over 180 young key opinion consumers (KOCs) across China, Taiwan, Japan, Korea, Indonesia, and Thailand, and invited them to do a pledge on social media by stating "#Ido" "#careforthefuture" and making a heart symbol. VEOCEL™ hopes these pledges will inspire this socially native generation to care for the future more. Several VEOCEL™ co-branding partners distributed trial product packs to the KOCs to enable them to experience first-hand how products made with VEOCEL™ branded fibers care for the environment.

Within the two-month period the campaign ran for, the influencers generated over 257,000 engagements from their followers and over 290,000 interactions on VEOCEL™'s official social channels in Asia, achieving a total reach of 16 million and more than 115,000 impressions.

Across the U.S. and Europe, VEOCEL™ collaborated with eco-conscious influencers Eva Klaus, Müge Boz, and Heather Goodman to roll out the #sharehowyoucare challenge and encourage their followers to share real life examples of how they care for the environment with a chance to win a weekend trip at an eco-resort. Through short video reels and social content, the influencers sampled products made with VEOCEL™ branded fibers and shared feedback with their network on why they should look for products containing VEOCEL™ fibers.

The campaign boosted VEOCEL™'s brand visibility with over 570,000 engagements across channels, resulting in over 1.4 million reach and over 2 million impressions across Europe and US.

Looking ahead, VEOCEL™ aspires to continue to empower consumers with the choice of sustainable everyday care products made with eco-responsibly produced wood-based fibers and collaborated with like-minded partners to inspire the community to care for our environment and future.

Related News
Latest News Nonwovens / Technical Textiles
More News from Lenzing

Latest News