Nonwovens / Technical Textiles
2023-02-03
A difficult year characterized by cost inflation and US demand challenges
The Finnish nonwovens manufacturer Suominen was able to increase its turnover by 11,3 % to EUR 493.3 million (443.2) in the financial year 2022 compared to the previous year. Due to various factors, however, EBITDA fell, resulting in a loss at the end of the year. For 2023, Suominen expects to be able to increase its comparable EBITDA.
Suominen Corporation's Financial Statements Release for January 1 – December 31, 2022:

A difficult year characterized by cost inflation and US demand challenges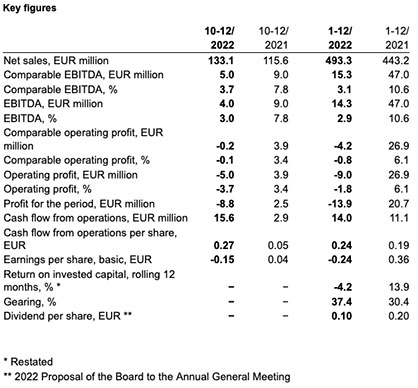 In this Financial Statements Release, the figures shown in brackets refer to the comparison period last year if not otherwise stated.
October–December 2022 in brief:

- Net sales increased by 15.1% and were EUR 133.1 million (115.6)

- Comparable EBITDA was EUR 5.0 million (9.0)

- Cash flow from operations was EUR 15.6 million (2.9)

Financial year 2022 in brief:

- Net sales increased by 11.3% and were EUR 493.3 million (443.2)

- Comparable EBITDA was EUR 15.3 million (47.0)

- Cash flow from operations totaled to EUR 14.0 million (11.1)

- Board of Directors proposes to the Annual General meeting a dividend of EUR 0.10 per share

Outlook:

Suominen expects that its comparable EBITDA (earnings before interest, taxes, depreciation and amortization) in 2023 will increase from 2022. In 2022, Suominen's comparable EBITDA was EUR 15.3 million.

Board proposal on distribution of dividend:

The Board of Directors proposes to the Annual General meeting, that a dividend of EUR 0.10 per share shall be distributed for the financial year 2022.

On February 2, 2023, the company had 57,480,727 issued shares, excluding treasury shares. With this number of shares, the total amount of dividends to be distributed would be EUR 5,748,072.70.

Klaus Korhonen, interim President and CEO:
"2022 was a difficult year for Suominen. The unprecedented raw material inflation which impacted us significantly already in 2021 persisted, and additionally also energy costs surged in 2022 after Russia's unlawful invasion of Ukraine in February. Suominen's US business specifically continued to suffer from the high inventory levels in the whole supply chain, where imbalance started to normalize only during the second half of the year.
Our net sales in 2022 reached EUR 493.3 million (443.2). Although sales volumes decreased from 2021, net sales were high driven by higher sales prices and also tailwind from currencies which amounted to EUR 32.9 million. Our comparable EBITDA decreased clearly from the previous year and was EUR 15.3 million (47.0). The higher sales prices could not fully compensate for the volume loss and for the higher raw material and energy costs. To improve our profitability, we took several actions during the year such as implementing energy surcharges in Europe in March and September and a general cost surcharge in North America in August as well as widening our product portfolio in the US.
We announced in June 2022 an investment to enhance and upgrade one of our lines in Nakkila, Finland. The investment strengthens our capabilities in sustainable products and is made in line with our strategy and vision to be the frontrunner in sustainable nonwovens. The investment project is proceeding according to plan and is expected to be completed in the second half of 2023.
We are continuously developing our sustainable product offering and our target is to increase the sales of sustainable products by 50% compared to the base year of 2019 and launch over 10 sustainable products per year. In 2022, the sales of sustainable products were 99% higher than in the baseline year 2019 and during the year we launched 12 sustainable products. One example of new products launched in 2022 is our first carbon neutral product BIOLACE® Zero. We also opened our own compostability test center Green Lab in Nakkila, Finland to support our product development.

In 2022 we completed the EcoVadis sustainability assessment for the first time and received a silver level rating. This result places us in the top 8% of companies in the manufacture of other textiles industry rated by EcoVadis.
Tommi Björnman was appointed Suominen's new President and CEO in November 2022. He currently works as President and CEO of Avgol Nonwovens and will join Suominen in May 2023 at the latest.

In January 2023 we started a consultation procedure regarding a plan to permanently close manufacturing at our Mozzate plant in Italy. The decision was made with a heavy heart but we see it as unavoidable given the market situation in Europe and the ongoing transition to more sustainable nonwovens for wipes. The plan has no impact to Suominen's operations at the Cressa plant in Italy.
Looking at the year ahead we see several market drivers with a positive impact to Suominen. The raw material cost inflation finally turned in Q4/2022, the energy markets show signs of price decline and in the US market the inventory levels have now receded to their normal levels. However, it remains to be seen how the current high consumer price inflation impacts the end consumer demand of wipes. Usually the wipes market has been rather steady despite the general economic situation.
To conclude, I want to thank all our employees for their contribution and hard work and our business partners for excellent cooperation in 2022."
More info:
https://www.suominen.fi/newsroom/2023/correction-suominen-corporations-financial-statements-release-for-january-1--december-31-2022-a-difficult-year-characterized-by-cost-inflation-and-us-demand-challenges/
Related News
Latest News Nonwovens / Technical Textiles
More News from Suominen Corporation

Latest News