Nonwovens / Technical Textiles
2022-09-29
Freudenberg showcases filtration media innovations at the 13th World Filtration Congress in San Diego

Filter media Karbofil used for high performance filter components - Source: ©Freudenberg Performance Materials
Freudenberg Performance Materials is showcasing its high-performance filtration media solutions for the first time at the 13th World Filtration Congress taking place in San Diego from October 6 - 8. Experts from the company will be available at Booth 319 to explain the benefits of different media and technology and answer visitors' questions.
Freudenberg Performance Materials is a leading global supplier of technical textiles and will be showcasing its range of high-performance solutions for filtration media for the first time at the 13th World Filtration Congress taking place in San Diego, USA, from October 6 – 8. Freudenberg Performance Materials (Freudenberg) offers its customers filtration media and carrier materials in the form of roll goods for use in HVAC technology, pool & spa, reverse osmosis filters and biofiltration media as well as liquid filtration. Freudenberg's innovations include biocide and antimicrobial additives, spunlaid, drylaid, wetlaid, meltbown, activated carbon and microfilament technologies together with the relevant specific web bonding technologies and further finishing processes such as coating, impregnating or printing, tailored precisely to the needs and wishes of customers.

"Together with our customers we deep dive into a topic to gain a thorough understanding of the specific needs and achieve the desired characteristics plus an efficient production process for the customer," Alen Nosic, Senior Vice President and General Manager Regional Business Unit Carpet, Filtration & Shoes, explained. "With our range of technologies and the comprehensive knowledge of our experts, we find the optimal solution for our customers."

One of Freudenberg's highlights at the World Filtration Congress exhibition is Colback® Plus, a unique solution for improved air quality. The pleatable medium has a built-in filtration capacity layer and can be used as a carrier in the manufacturing of cabin air, room air and HVAC filters. Colback® Plus therefore combines high performance characteristics such as low pressure drop and high pleat stiffness with a unique fine fiber technology. The result is a filtration medium that not only has outstanding performance characteristics but also creates new capabilities for manufacturing customer products.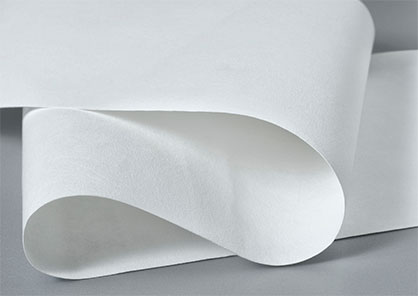 Invented by Freudenberg, Evolon® microfilament textiles provide the best combination of textile and mechanical properties for a wide variety of applications including filter components. © 2022 Freudenberg
Related News
Latest News Nonwovens / Technical Textiles
More News from Freudenberg Group

Latest News