Nonwovens / Technical Textiles
2018-04-11
Only six months to go until the second edition of SALTEX
Prospects for the second edition of SALTEX 2018 (September 12 - 13, 2018, in Dornbirn, Austria) are very promising. Leading textile associations and numerous industry companies from Vorarlberg will again exhibit and beyond that, new international enterprises expressed their interest in exhibiting at the upcoming event.
Visitors can expect innovative product presentations and an exciting framework program at the Content- und Community-Platform for Smart Textiles und High-Performance Materials
SALTEX 2018 will be the venue for a hackathon event and the legendary Rubber Cup
Global Fiber Congress Dornbirn-GFC and SALTEX organize a joint networking evening
Hannes Tschofen, director sales technical textiles, Getzner Textil AG, Bludenz, Austria, comments on the expectations of Getzner and why the company wants to be part of the second edition again as follows: "As a supplier of sophisticated textile solutions, SALTEX is an important regional trade event for us. It allows us to have an immediate contact with our customers and to expand our existing business network. Furthermore SALTEX is a great platform to showcase our product portfolio and our innovations."
SALTEX positions itself as a know-how broker, network and knowledge transfer platform for smart textiles and high performance materials. Apart from the cooperation forum organized by WISTO, the economic location Vorarlberg, that schedules meetings for matching up companies, SALTEX brings new creative formats into play. The planned hackathon means that programmers, screen designers and developers as well as interested parties from other sectors work together on a chosen topic that fits with the range of products and services of SALTEX. According to the coordinator of the project Guntram Bechtold the objective is to develop within a time frame of 24 hours an intelligent product, that might fit into the overall digital work flow.
Guntram Bechtold, StarsMedia IT Management KG will steer the project on behalf of Messe Dornbirn. In addition a Rubber Cup is planned in the framework of SALTEX. This competition has been originally launched by the worldwide renowned industry designer Richard Sapper, who had been an academic teacher at the State Academy of Fine Arts in Stuttgart from 1986 till 1998. In the style of the legendary Rubber Cup SALTEX invites to develop a smart engine that is driven by a rubber drive wheel. The challenge is to design a vehicle with only 20 grams of rubber that serve as a powertrain and to let it drive on the longest possible duration.
The team covering the longest distance wins. The vehicle shows a size of approximately 1 m and has a light structure. Guntram Bechtold outlines the new initiative in the framework of SALTEX: "We would like to encourage engineers, technicians and developers to participate in this competition. We want to reach the female experts in companies and universities and encourage them to team up in interdisciplinary groups. We are confident to meet with plenty of innovative engineering power and bold ideas."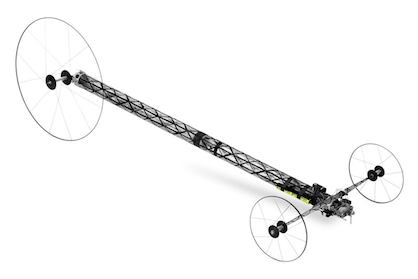 (c) 2018 SALTEX
The format shall encourage to demonstrate in a creative way, how semi-finished products and new product ideas, showcased in the framework of SALTEX, may be applied in different contexts.

On the occasion of the upcoming SALTEX, representatives from research facilities shall get the opportunity to showcase application oriented solutions and interest experts from different fields. A special area will be allocated. Universities, colleges and research facilities are given the opportunity to introduce their current developments in the fields of smart textiles & high performance materials. The target audience are visionaries, decision makers from industry, research and strategic marketing as well as heads of research and development departments.
The entire textile value chain shall be addressed, in particular representatives from industry, research and academic teaching who are involved in future technologies and are always looking for innovations, that could be useful and in line with the new requirements of digital transformation. Among others representatives of the following companies were visitors at SALTEX 2016 in Dornbirn, Austria: BMW Group, Pantec Engineering AG, Doppelmayr, Gebrüder Weiss, Ecoplus, Wolford AG, Fraunhofer Institute, Skinfit and Noble Biomaterials Inc.

Key attraction and integral part of SALTEX is the Smart Textiles Symposium, that since 2016 takes place in parallel with the community platform SALTEX. A visit to Zumtobel Lighting GmbH, a leading supplier of innovative lighting solutions, located in Dornbirn, Austria, will complement the event calendar of SALTEX. During two days SALTEX (September 12 – 13, 2018) will run simultaneously with the 57th Global Fiber Congress Dornbirn- GFC (September 12 – 14, 2018). On the occasion of the traditional mayor's evening of the city of Dornbirn September 12, both organizers, Dornbirn-GFC and SALTEX, take advantage of the synergies and issue an invitation for interdisciplinary networking.
Related News
Latest News Nonwovens / Technical Textiles
More News from Saltex

Latest News