Knitting & Hosiery
2018-11-08
SHIMA SEIKI to exhibit at Expotextil Peru 2018

SDS-ONE APEX3 (c) 2018 Shima Seiki
Leading Japanese computerized flat knitting machine manufacturer SHIMA SEIKI MFG., LTD. will exhibit at the upcoming Expotextil Peru 2018 show in Lima, Peru.
At Expotextil SHIMA SEIKI will promote its WHOLEGARMENT® knitting technology by displaying its SWG061N2 WHOLEGARMENT® knitting machine. As a compact entry­level machine, the SWG­N2 series is perfect for knitting compa­ nies searching for ways to distinguish their services in a competitive market. On­demand knitting capability of WHOLEGARMENT® combined with the great flexibility of SWG­N2 in producing a variety of items such as gloves, socks, leg­ gings, hats and mufflers as well as childrenswear, provide new business opportunities as well.
The latest in conventional knitting is represented by the SVR122 computerized knitting machine. SVR122 becomes the new reference standard in shaped knitting by inheriting proven SHIMA SEIKI technology such as the patented Digital Stitch Control System (DSCS®), Spring­Type Sinker System, Stitch Presser, Yarn Gripper and Cutter and Takedown Comb. Made­in­Japan quality, reliability, productivity, user­friendliness and cost­performance combine to satisfy the high stan­ dards expected by the fashion industry within Peru and beyond.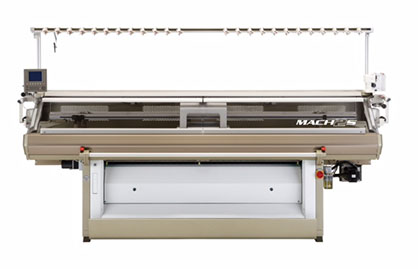 SWG061N2 (c) 2018 Shima Seiki
Aside from the SWG­N2 series and SVR machines mentioned above, knit samples highlighting the cutting­edge in com­ puterized knitting technology will also be on display. Items produced on SHIMA SEIKI's flagship MACH2XS WHOLEGARMENT® knitting machine as well as samples knitted on SRY series and SVR­SP model featuring inlay technique that yield hybrid knit­weave fabrics, and new i­PlatingTM technique will also be featured.
Also on display will be the SDS­ONE APEX3 3D design system. Key to SHIMA SEIKI's "Total Fashion System" concept, APEX3 integrates all stages of apparel production into one smooth and efficient workflow through comprehensive sup­ port from planning and design to production and sales promotion. With ultra­realistic product simulations, APEX3 is also capable of Virtual Sampling that minimizes the costly time­ and resource­consuming sample­making process. Combined with the on­demand capability of WHOLEGARMENT® knitting machines, such new retail trends as mass­customization and e­Commerce can be supported through a smart, speedy and sustainable production process.

Exhibition Details
Name: Expotextil Peru 2018
Date: Thursday, 8th ­ Sunday, 11th November 2018
Hours: 2:00PM ­ 9:00PM
Location: Jockey Exhibition Center - Avenida Javier Prado Este 4200 Lima, Peru
Organizer: Plastic Concept S.A.C. - Tel: +51 (1) 714­9558
Booth: E3, E4 (STT PERU IMPORT Booth)
Exhibited Technology
SWG061N2 10G - WHOLEGARMENT® knitting machine
SVR122­SV 14G - Computerized flat knitting machine
SDS­ONE APEX3 - 3D design system
For more information please contact:
STT PERU IMPORT SRL
Tel: +51(1) 473­9952
Email: ventas@sttperu.com
Related News
More News from Shima Seiki MFG., Ltd.

Latest News