Knitting & Hosiery
2018-08-02
Trevira and imat-uve introduce new 3D flat knitting technology for automotive interiors
Trevira, one of the market leaders in polyester yarn manufacture, and the development services company imat-uve have together achieved a milestone in textiles design: the use of 3D flat knitting technology for automotive interiors. In a jointly developed process that unites innovative yarn technologies with cutting-edge connection and finishing techniques, Trevira and imat-uve have found a way of producing anatomically contoured seat covers and trim components for vehicle interiors.
Why is this important? The answer lies in the way it's done. Because the technology uses just one knitting process rather than several, manufacturers can reduce their production and materials costs, as it's no longer necessary to cut and assemble the fabrics. But the new invention is not just cost-effective – the flat knitting technique means that it's now possible to personalise design and function to a much greater degree, representing another important step in the direction of on-demand production.

Trevira and imat-uve are the first companies to develop such a sophisticated application of the knitting process for use in vehicles, thanks to imat-uve's innovative processing and finishing technique which deploys a low-melt yarn specifically developed by Trevira. The collaboration has resulted in a high-performing knitted product which satisfies even the most demanding criteria in terms of quality and comfort. The VDA 230-210 standard velcro test carried out by imat's testing laboratory found that the product was extremely abrasion resistant. The 3D flat knitting technology even means that areas known to be vulnerable, such as the seams on seat covers, can be strengthened in the course of the same single knitting process. Another benefit of the technology is its contribution to sustainable manufacturing. Not only does it work on the zero waste principle, but the knitted fabric itself is manufactured entirely from yarn made from PES recyclates.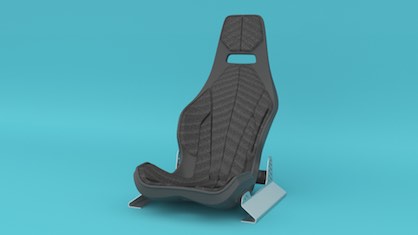 3D visualization of knitted textile on a car seat (c) 2018 Trevira
Thomas Rademacher, Head of Development at Trevira, explains why the collaboration was so successful. "The development company imat-uve came up with a new breakthrough technology, while here at Trevira, we contributed our own recycled yarns and a new low-melt yarn we've developed based on synthetic fibres, which provides a stabilising effect. Together we have created a highly sought-after, top quality product for automotive interiors. Flat knitting will now be the go-to technology for vehicle interiors – in the future, it will be impossible to imagine life without it."
Hans Peter Schlegelmilch, imat-uve's CEO, pointed out the especial benefits of the new technology for vehicle manufacturers and their suppliers. "The 3D flat knitting technology doesn't just make it possible to save time and money on production. It also opens up a whole new world of personalisation for end consumers. We are extremely pleased that with Trevira as our partner, we have been able to take this significant step towards the future of automotive interiors."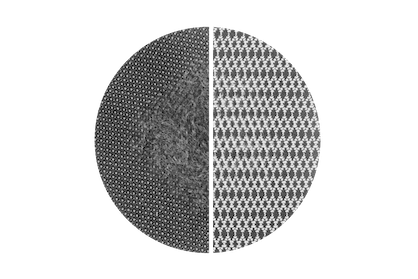 Result comparison Velcro test VDA 230-210: regular flat knit (left), imat x Trevira flat knit (right) (c) 2018 Trevira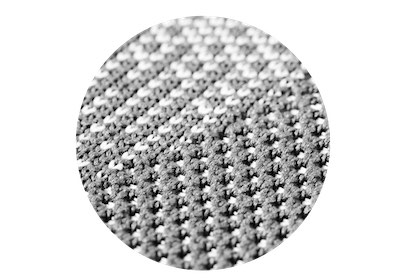 Patterns for different zones of knitted parts (c) 2018 Trevira
Related News
More News from Trevira GmbH

Latest News