India ITME 2016
2016-11-10
Textechno at the ITME India 2016 in Mumbai
At the ITME India 2016 in Mumbai, TEXTECHNO Herbert Stein GmbH & Co. KG (Germany) will introduce latest testing instruments for filament yarns, spun yarns and fibres.
Textechno's new capacitive evenness tester for filament yarn COVAFIL+ with its new capacitive sensor design and a high-speed yarn twister achieves all requirements on an effective and reliable quality control system. The concept to operate the COVAFIL+ either as a stand-alone unit or in combination with Textechno's well-proved filament yarn testers DYNAFIL ME and COMCOUNT guarantees highest testing efficiency and flexibility, as - apart from tensile strength and elongation - all
relevant yarn parameters can be determined with one test system only.
For determining the number of interlaces Textechno has developed the Interlace and Interlace Stability Tester ITEMAT+ TSI as the successor of the well-known ITEMAT by Enka tecnica. While the basic principle was kept the same, drives and electronics have been replaced by state-of-the-art technology and the mechanical interlace sensor has been completely re-designed to serve a larger linear-density range at better reproducibility.
STATIMAT ME+ represents the new generation of the Textechno automatic tensile testers for yarns.
Textechno's 'Cotton Control Line' is widened by several new instruments. The focus will be on the enhanced fibre bundle length and strength tester FIBROTEST, the Micronair Station FMT, as well as the automatic fibre-length-, impurity- and spinnability tester MDTA 4, now available from Textechno.
The FAVIMAT+ is the first and only tester to combine six single-fibre test methods in one instrument.
The instrument can be used to test a wide variety of fibres, including Aramide, UHMWPE, glass and carbon. The test process can be fully automated by means of the AIROBOT2 system linked to the FAVIMAT+. The AIROBOT2 system features a tensionless storage for up to 500 fibres together with a fully automatic transfer mechanism, which feeds the fibres to the FAVIMAT+ testing instrument without using pretensioning-weights. TEXTECHNO's solution for those customers, who need a fast tester for single fibre linear density and tensile properties, is the FAVIGRAPH.
Textechno establishes a new department for composite testing services. Besides testing basic fibre properties with FAVIMAT+, customers can also examine the fibre/matrix adhesion with the new FIMATEST system and the drapability of fabrics and NCFs for composites with DRAPETEST.
Through these services people gain easy access to award winning testing Technology.
Pic: Textechno ITEMAT+ TSI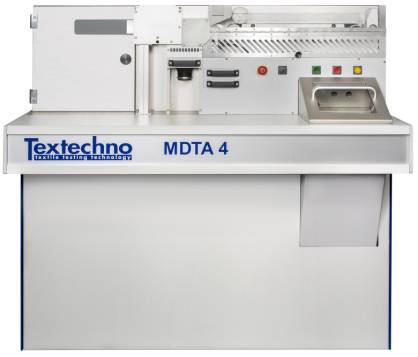 Pic: MDTA 4 is now available from Textechno
Related News
Latest News India ITME 2016
More News from TEXTECHNO Herbert Stein GmbH & Co. KG

Latest News