ITMA 2019
2019-06-06
Textechno celebrates its 70th birthday at ITMA Barcelona

(c) 2019 Textechno
Founded in April 1949, Textechno Herbert Stein GmbH & Co. KG, Germany, looks back at 70 years of innovation in textile testing. Today, the Textechno Group consists of Textechno and its Austrian subsidiary Lenzing Instruments and is world market- and technology leader in the field of testing equipment for man-made fibres and yarns.
At ITMA 2019 in Barcelona, Textechno will exhibit its well-proven STATIMAT series – the most complete series of automatic tensile testers for yarns world-wide, ranging from the finest Spandex (STATIMAT MEL+) to the coarsest and strongest Aramids and UHMWPEs (STATIMAT 4U).

The world standard equipment for static crimp and shrinkage tests, TEXTURMAT ME+, as well as its dynamic counterpart, DYNAFIL ME+, will be shown in Barcelona. Moreover, the fully-automatic evenness tester COVAMAT, which was shown as a prototype at ITMA 2015, is now in series production and fulfils all requirements of an effective and reliable quality control on POY, FDY, and IDY.

Textechno has developed the world's first single-fibre tensile testers in the early 50ies. By now Textechno offers the sixth generation of single fibre testing instruments and combines it with the highest degree of automation. FAVIMAT+ AUTOFEED fetches single fibres from the floc and measures linear density, tensile, and crimp properties including crimp number.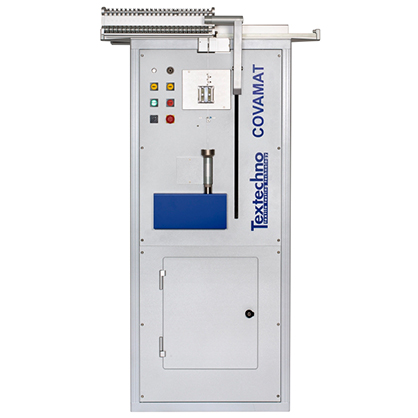 Covamat (c) 2019 Textechno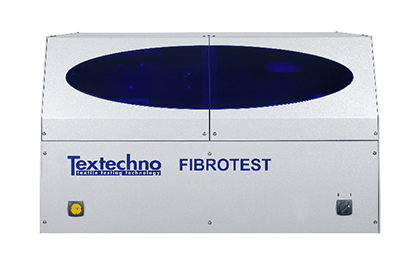 Fibrotest (c) 2019 Textechno
Since FAVIMAT+ is suitable for all kinds of fibres, it has also successfully entered the market of reinforcement fibres such as glass- or Carbon fibres. The award winning FIMATEST system measures fibre/matrix-adhesion and now also the contact angle and is a great addition to Textechno's FAVIMAT+ in the field of composite testing.

At ITMA 2007 Textechno has started a range of instruments for natural fibres and spun yarns, which is now complete: Textechno's Fibre Classifying System FCS and MDTA 4 determine the quality and spinnability of both cotton- and synthetic fibres. At this ITMA the focus will be on the enhanced fibre bundle length and strength tester FIBROTEST, the new micronaire tester FIBROFLOW, the new trash and colour tester OPTOTEST, as well as the fibre length-, impurity- and spinnability tester MDTA 4.

Visit the joint booth of the Textechno Group – Textechno and Lenzing Instruments: Hall UL (Under linkway), booth C105.

Related News
More News from TEXTECHNO Herbert Stein GmbH & Co. KG

Latest News