ITMA 2015
2015-11-16
Bräcker celebrates 180 years Anniversary at ITMA Milano
Bräcker, the specialist of key components for ring spinning machines celebrated its 180th anniversary on Saturday, 14th of November 2015, during ITMA Milano.
The ceremony, which took place at the booth, was highlighted by a speech of Mr. Daniel Link, Managing Director of  Bräcker, in which he underlined the success story of the products as well as the history of the company.
With a constant focus on products and customers, by caring about the employees and partners and by accepting that the world is turning and changing every day, Bräcker will successfully continue the endeavor which was started 180 years ago. All this, combined with accurate Swiss engineering and manufacturing and the capability to listen carefully to customers will secure the prosperity of Bräcker and its customers businesses in the future.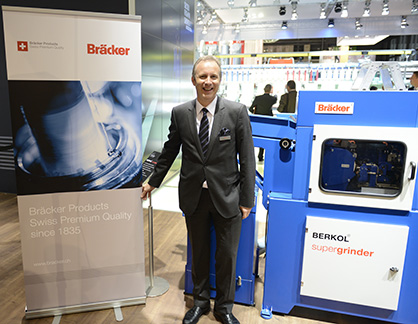 pic: (c) 2015 Bräcker: Mr. Daniel Link, Managing Director of Bräcker
Related News
More News from Bräcker AG

Latest News