ITMA 2015
2015-11-04
EFI Reggiani's brings state-of-the-art digital printing to ITMA 2015
At the 19-22 November ITMA Exhibition in Milan, textile industry professionals will see leading-edge EFI™(Nasdaq:EFII) Reggiani products that reduce cost and improve productivity and sustainability in high-quality industrial digital textile printing applications.
The EFI Reggiani exhibit in hall 18, stand A109 includes advanced, eco-chemistry, water-based inks and new automation tools for the portfolio of EFI Reggiani textile and dye-sublimation inkjet printers and pre- and post-treatment machines.
"We will have a complete lineup of EFI Reggiani products on display in our first textile industry exhibition since EFI's acquisition of Reggiani," said Dr. Ambrogio Caccia Dominioni, managing director, EFI Reggiani. "We are excited to showcase how industry professionals can benefit from a new era in textile using the technological advancements in the end-to-end preparation, workflow, printing and finishing ecosystem now available now from EFI."
The EFI Reggiani product portfolio comprises the industry's most-complete offering for the entire textile process, starting from yarn treatment to fabric printing and finishing. EFI Reggiani designs, manufactures, sells and services high-quality machines across the globe for a wide variety of substrates. And, EFI Reggiani customers have successfully established operations in virtually every major textile market application, including fashion, home textile, sportswear, signage, flooring, automotive and outdoor products.
EFI Reggiani product brands include EFI Reggiani printers and Mezzera and Jaeggli pre- and post-treatment machines – all devices that are developed to offer improved productivity and quality, optimised printing and reduced energy and water consumption.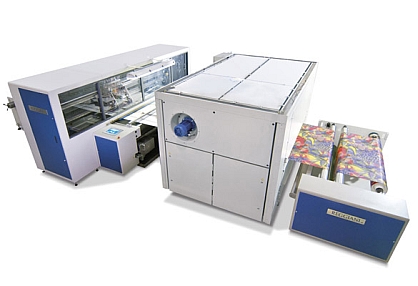 Pic:Efi Reggiani ReNOIR compact paper
 
Building on more than 60 years of technical know-how, EFI Reggiani offers an industry-leading perspective on technological growth, sustainability and development for the textile market. EFI Reggiani machines are available through a worldwide network of local agents, distributors, and after-sales service centres that provide efficient, timely and effective support to customers.
Related News
More News from Reggiani Macchine S.p.A.

Latest News