ITMA 2015
2015-04-08
CEMATEX publishes the 7th issue of ITMA Sustainability Bulletin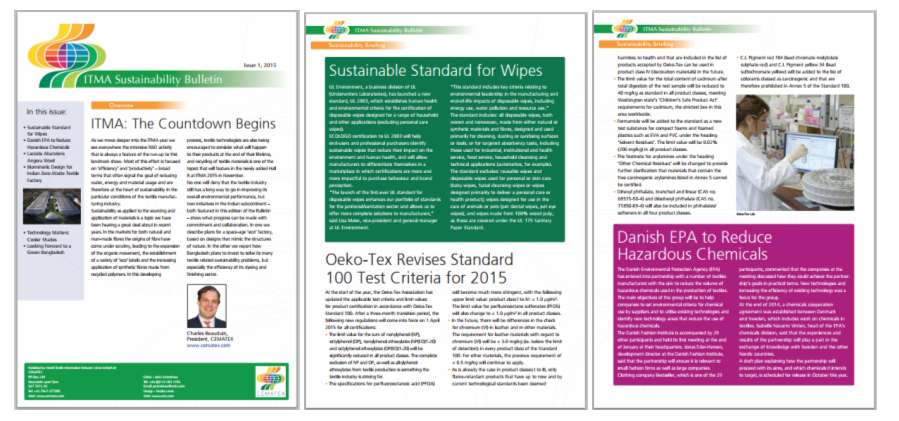 The latest edition of the ITMA Sustainability Bulletin (c) 2015 CEMATEX
The latest edition of the ITMA Sustainability Bulletin – the quarterly report on environmental performance from ITMA, the world's leading exhibition for textile manufacturing technology, is now available for download.
As ITMA 2015 approaches, it is clearer than ever that sustainability remains a topic of vital concern to manufacturers throughout the textile supply chain. In line with the mission to bring you the latest and most relevant intelligence, CEMATEX hopes the ITMA Sustainability Bulletin will keep you up-to-date with the latest environmental issues in textiles, and the solutions available to address them.
The ITMA Sustainability Bulletin is a 12-pager with a couple of news about what happened in the terms of sustainability during the last weeks.
It contains news about a sustainable standard for wipes, the Danish EPA' s aim to reduce hazardous chemicals and a report about a 'biomimetic design for Indian zero-waste textile factory.
Another topics are "Looking forward to a Green Bangladesh" and the bottle-to-POY line of BB Engineering .
To read the ITMA Sustainability Bulletin, please click here:

http://www.itma.com/docs/default-source/news/itma_sustainability_bulletin_issue_1_2015_en.pdf?sfvrsn=2
Related News
More News from CEMATEX

Latest News