Digital Printing
2023-04-19
Kornit Digital opens the door for creative new possibilities in home décor via the power of on-demand, digital textile production
Kornit Digital Ltd. (NASDAQ: KRNT) ("Kornit"), a worldwide market leader in sustainable, on-demand digital fashionx and textile production technologies, announced today the company is set to open the door for creative new possibilities in home décor as showcased in a new collaboration with D-house laboratorio urbano. Featured during Milan Design Week, the companies will feature an exclusive, creative experience promoting the evolution of new technology paradigms for fashion, design, and home décor – powered by Kornit technology.
Milan Design Week sets the stage for bold, new collaboration with D-house laboratorio urbano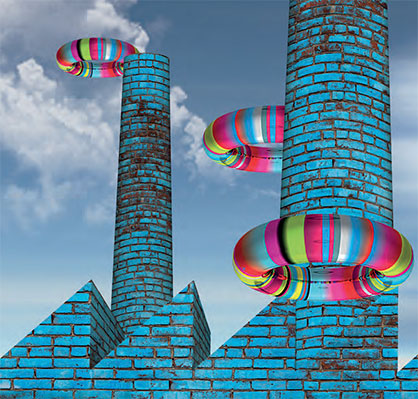 © 2023 Kornit Digital
The experience was conceived by artist and designer Markus Benesch in a two-room exhibition highlighting the infinite possibilities in home décor, enabled by Kornit's sustainable, on-demand technology. As part of the imaginative exhibit, visitors experience a world inspired by the paintings of De Chirico, Carlo Carra and Matisse. Evoking a sense of frozen movement, the object's textures are reminiscent of brick – representing eternity, hardness, and stability – and in stark contrast to the objects on which they rest. In the second room, visitors are transported back to childhood where they become architects, builders, and designers in a playful atmosphere of wild colors and designs.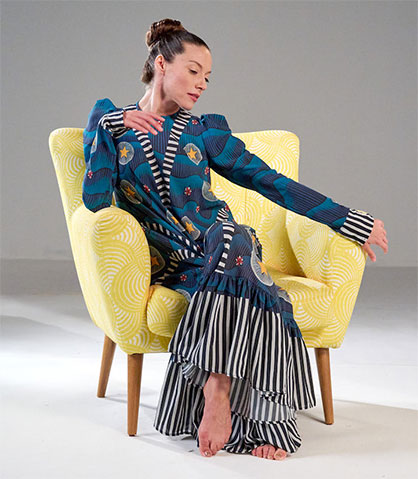 © 2023 Kornit Digital
Pushing the boundaries of home décor textile and designs and making this possible is the Kornit Presto MAX – widely considered the most sustainable, single-step solution for high-quality, direct-to-fabric, roll-to-roll decoration. The solution offers endless creativity and the widest array of fabrics to transform home décor with the brightest, most colorful, and innovative designs. Creators can tap into the power of Kornit XDi technology, raising the bar for 3D decorative applications on fabrics – enabling innovative home décor looks such as threadless embroidery, high density vinyl, and the printing of brilliant whites on dark fabrics.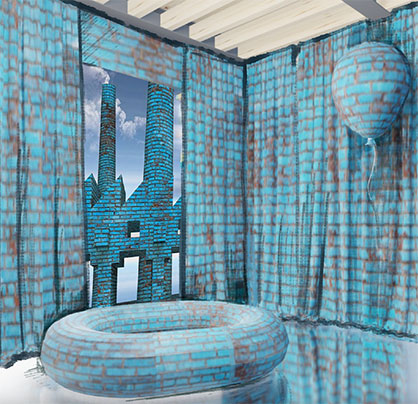 © 2023 Kornit Digital
"The Kornit Presto MAX is powering a new world of home décor, where creativity and innovation are the norm, not the exception," said Chris Govier, President EMEA at Kornit Digital. "From bold colors and intricate designs, Kornit technology is disrupting the home décor marketplace with sustainable, on-demand textile production. We're proud to collaborate with D-house labortorio urbano to showcase a world of home décor where the only limit is the designer's imagination."

The project was coordinated by the D-house laboratorio urbano, while displayed artifacts were made by Dyloan Bond Factory, a manufacturing hub of the Pattern Group. Textile company Eurojersey supplied the stretch, technical Sensitive® Fabrics' range, while Et s.r.l. contributed packaging of cushions. Finally, cotton fabric sportswear manufacturer Beppetex supplied fabrics transformed into curtains for some exhibits.

Members of the press are invited to a Surreal Breakfast as part of the joined exhibition "Inspirational Living" designed by Markus Benesch. Media interviews are available upon request. The press event takes place on 18th April from 10:00 – 13:00 (via Galileo Ferraris 1 in Milan (MM5 - Cenisio). Kindly confirm your attendance and media interviews with Ingrid at ingrid@pr4u.be.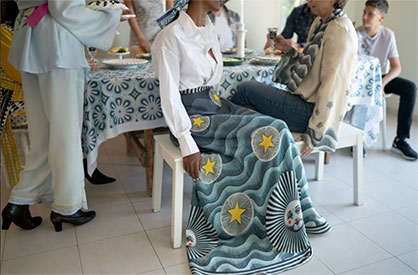 © 2023 Kornit Digital
Visitors are encouraged to participate in this unprecedented event from April 17-23 from 10:00 am to 6:00 pm.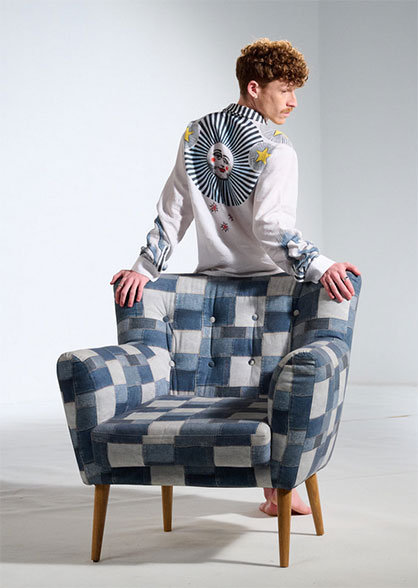 © 2023 Kornit Digital
Related News
Latest News Digital Printing
More News from Kornit Digital

Latest News