Digital Printing
2023-02-09
Mimaki to launch brand new product during insightful, information-packed global innovation days
Mimaki Europe, the leading manufacturer of inkjet printers and cutting systems, has today announced that a new solution will be officially launched at the company's next highly anticipated Global Innovation Days online event. Designed to ensure its customers can run cutting-edge, productive businesses and meet the latest demands of the sectors they serve, this new solution is sure to generate huge interest and excitement within the industry.
Fourth online education and networking event, Mimaki Innovation Days, to be held for customers and industry peers on 21-23 February
From 21st to 23rd February, Mimaki will host customers, influencers, and prospects during its fourth Innovation Days event. With the inevitable buzz of the new product announcement, combined with another packed program of fascinating webinars focused on hot topics for the industry, this next Innovation Days promises to be extremely popular with its many worldwide delegates, once again.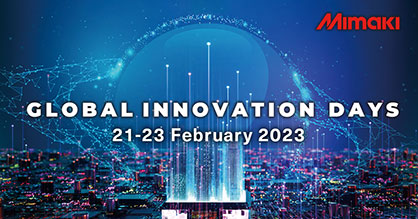 © 2023 Mimaki
Mimaki's Global Innovation Days will return for the fourth time at the end of February

"Innovation Days has been a highly successful initiative for all who attend due to the variety of information shared and the unique chance to gain insights into the worldwide print market. This year will be another opportunity to see and hear from Mimaki's team from different corners of the globe, bringing that international industry perspective to individuals in the comfort of their own office or home," Danna Drion, General Marketing Manager at Mimaki Europe explains. "On the second day of this eagerly awaited event we'll not only be launching a brand new Mimaki solution. This printer breaks new ground for Mimaki technology, being the first of its kind to be added to our product portfolio."

"The technology focused sessions will highlight ways in which Mimaki printers can enable more efficient, automated and sustainable production – all of which are process improvements that are at the forefront of everyone's agendas this year and beyond. We'll also be collaborating with some remarkable Mimaki partners and friends, such as Neenah Coldenhove, FESPA, and Dutch artist, Martie Dekkers. With these speakers and others, we aim to offer attendees a number of highly engaging panel discussions. It will be three days in February that you will want to highlight in your calendar today and not miss out on!"

The full Innovation Days program can be viewed here and anyone interested can register their attendance via this link:
http://innovationdays.mimaki.com

For more information about Mimaki's products and services, please visit:
Related News
More News from Mimaki Europe B.V.

Latest News