Digital Printing
2022-09-22
Mimaki appoints Heliozid Océ Emirates to market and service Mimaki printers in the UAE

Mimaki stand showcasing the latest wide roll printer © 2022 Mimaki
Mimaki Europe and Heliozid Oce Emirates have signed a distribution agreement whereby Heliozid will sell and service a range of Mimaki Large format printers, cutters, and 3D printers across the United Arab Emirates market.
There is a new distributor in town, brace yourself UAE.
Yumi Taguchi, Mimaki area manager for the Middle East, anticipates that the company will provide high technical support. Therefore, users in this market can work in a better environment.

"Philippe Husni, managing partner at Heliozid, added we feel Mimaki offers the right products in terms of superior quality, product positioning, and overall value for customers investments. Mimaki printers are ideally suited for the Gulf markets which makes us very optimistic with this new cooperation."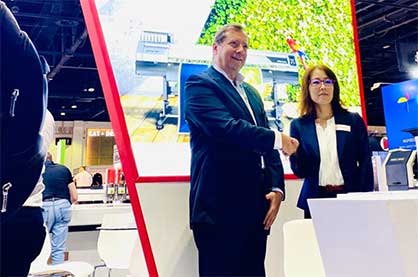 Mimaki and Heliozid Team © 2022 Mimaki
From 19th-21st September 2022, Heliozid is showcasing Mimaki products for the first time at SGI Dubai on stand 7-B07. SGI visitors can see the latest Mimaki1.6M wide roll to roll printer on the Heliozid stand. The JV100-160 ensures unattended continuous printing operation combined with the very Highest Image quality. It uses Eco-Solvent inks available in 8 colors covering more than 95% of the entire Pantone coated color chart.

Océ Emirates established Heliozid in 2006 as a joint venture with the Bin Ham group of the UAE. Today, the company is a leading organization in the UAE. Its core activities focused around development of large format printing solutions for the Graphic arts and textile markets. All printing solutions are supported by a professional team of technical consultants. Their strength lies in the company's focused efforts on providing mid to high-end large format printing solutions and professional after sales service to the commercial and display graphics segments.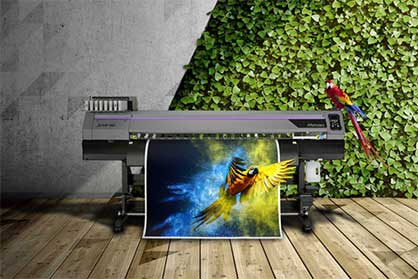 JV100-160 solvent printer © 2022 Mimaki
Related News
Latest News Digital Printing
More News from Mimaki Europe B.V.

Latest News