Digital Printing
2022-05-25
Market leaders to host a transfer printing microfactory at FESPA 2022

© 2022 Mimaki
At FESPA 2022, industry leaders in digital printing bring "on-demand printing" to life via an on-site transfer printing microfactory. Purazell Couture, Greentex by Sutex, Neenah Coldenhove, Mimaki, Inedit, Klieverik and Summa will team up to guide visitors through a sportswear production line from design concept to end-product.
These last few years have revealed that prices and availability depend on global stability. Garment printing production used to be based on forecasted sales. Today's garment printing, however, is gradually changing; items are produced after they have been sold. Traditional production resulted in piles of unsold garments, as well as logistical challenges due to the production and shipping of goods which could not be sold and warehousing maintenance. This put a heavy burden on the environment and came with high production costs and low profitability.

Enter the new way of garment printing production: on-demand production in microfactories. This has been a complete game changer. The customer sees the product first, buys it and pays for it before production. That means no minimum, no pre-investment, no inventory and no high overseas shipping costs. With a microfactory, production order quantities can be as few as one and be produced as they are sold as opposed to pushing stock that has been pre-produced.
What is unique about a Microfactory?

• Microfactories save a great amount of resources like space, energy, materials and time.

• Microfactories have a small ecological footprint.

• Transfer Printing Microfactories use no water during the process and promote the use of green fabrics, like the ones used for FESPA 2022.

• Microfactories are easily scalable: production can be increased as the business grows.

• Microfactories use the latest digital techniques, offer endless design possibilities and can translate the latest designs into production with a faster time to market.

Come see the innovative transfer printing Microfactory at work during FESPA 2022 from 31 May to 3 June at the Messe in Berlin.

Get your free badge

https://registration.gesevent.com/survey/33ut908d9h4zi?actioncode=NTWO000135MGQ&partner-contact=3dihhoh7yvl7s&partner-invite=028tvti75zafc[P:

It's time to experience how a microfactory can change the rules in a colourful and dynamic environment, such as digital printing. Even though evolution is necessary, the right product and partners remain the keys to success. The sportswear microfactory at FESPA 2022 is set to be a successful collaboration between the following companies:

• Purazell Couture – Fashion design | purazell.de | purazellcouture.de

• Greentex by Sutex – Eco Textile | www.greentex.co/ | Stand 1.2-B50

• Neenah Coldenhove – Sublimation Transfer Paper | www.neenahcoldenhove.com | Stand 3.2-B38

• Mimaki – Printing | www.mimakieurope.com | Stand 1.2-A30

• Inedit – Printing Software | www.inedit.com | Stand 6.2 – B15

• Klieverik – Calenders for dye sublimation and transfer printing | www.klieverik.com | Stand 1.2-B50

• Summa – Laser Cutting | www.summa.com | Stand 3.2-C48­­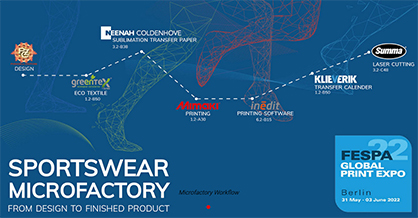 Related News
Latest News Digital Printing
More News from Mimaki Europe B.V.

Latest News