Digital Printing
2022-04-07
Mimaki to bring latest solutions for high-quality sign, textile and 3D applications to Salon C!Print France

Mimaki Europe to demonstrate their most recent innovations for the first time in France (c) 2022 Mimaki
Mimaki Europe, the leading manufacturer of inkjet printers and cutting systems, has today announced the market-leading technologies, including the JFX600-2513, UJF-MkII e Series, 3DUJ-2207 and CJV330-160 from the 330 Series, that will all be on show at their stand (Stand 2G34) during the Salon C!Print event (10-12 May, Lyon, France).
This marks the French debut of Mimaki's most recently launched printers, all developed with the company's renowned focus on delivering business-enhancing, high-quality, high-value applications.

Visitors to the Mimaki booth will be able to view both the printers and the extensive applications possible, encompassing all sectors from sign graphics and industrial, to textile and 3D. Divided into three main sections, Mimaki will display 7 advanced solutions including flatbed, UV and 3D printers. The booth will also include an interactive exhibit of success stories and application examples from customers, celebrating their achievements and the exciting potential of Mimaki's technologies.

As a Gold Partner for the event, Mimaki will feature prominently in Salon C!Print's show 'Café de la Personnalisation'. At the heart of the show, the café exhibit will feature live demonstrations of product personalisation on objects. Here, Mimaki will be showcasing a broad range of personalised applications printed on the UJF-3042MkII e at the café.
© 2022 Mimaki
One of the highlights of the Mimaki booth will be the new industrial JFX600-2513 – a large-format UV flatbed printer with 200 m²/h production speeds, which is up to 300 percent faster than its predecessor thanks to its increased number of printheads and strengthened hardware. The new model also features an increased colour spectrum with six colour configurations and the ability to work with different ink sets.

The newest UV flatbed printers from the UJF series will also take centre stage at Salon C!Print. In addition to the UJF-3042MkII e exhibited at the 'Café de la Personnalisation', the UJF-6042MkII e will also be showcased on the company's booth. The printers enable photo-quality printing on a wide variety of flexible and rigid materials, including leather, wood, acrylic, metal and glass, providing users with a versatile, high-quality solution that can deliver a quicker return on investment.

Another new printer being showcased will be the 3DUJ-2207, which integrates with the brand new end-to-end 3D printing solution designed to simplify the process. Never before demonstrated in France, this affordable, compact 3D printer promises to bring high-quality, accurate, full colour 3D printing within the reach of many more businesses who require or would benefit from prototyping. The smaller design ensures the solution can fit into an office environment, while its water-soluble support materials make model production quick and easy. Mimaki will also showcase the new 3D Print prep Pro software for its 3DUJ printer range, as well as the 3DCS-322, a post processing unit for the Mimaki 3DUJ-2207, developed in collaboration with AM Solutions – 3D post processing technology.

Also being shown for the first time at a French tradeshow, the new eco-solvent inkjet printer CJV330-160 from Mimaki's latest mid to high-end range of cross sector printers, the 330 Series, plus the CG-130AR cutting plotter will feature on the stand. Both were released earlier this year to cater to printers looking to improve upon the quality and productivity of their printing process. Other solutions on display include several printers from the popular entry level '100 Series'; the UJV100-160 UV-LED roll-to-roll printer for the production of high-quality graphics, and the TS100-1600 dye sublimation printer for the textile industry.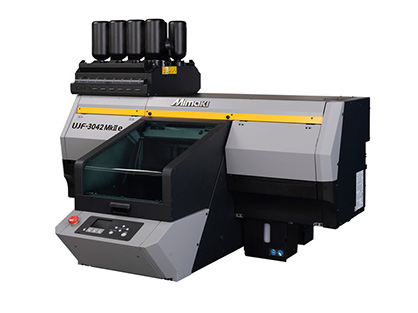 © 2022 Mimaki
"We're looking forward to the opportunity to demonstrate the diverse range of applications these ground-breaking, advanced print solutions can deliver. As Salon C!Print is the foremost print show in France, we've tailored the technology on our booth to include solutions and applications that have the most potential to inspire visitors and enhance our customers' businesses and product portfolios," comments Martial Granet, Branch Manager, Mimaki France. "Our solutions are designed to enable printers to achieve unparalleled flexibility and enhanced application opportunities for increased and diversified business growth. This has been crucial over the last couple of years and has enabled our customers to not only survive but continue to grow their businesses, despite the challenges of the pandemic. As we start a new year, we are excited to share these latest, pioneering technologies with the French market and further support our customers to explore new revenue streams that drive their businesses forward."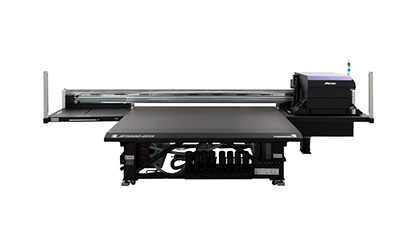 © 2022 Mimaki
This interactive experience for the French printing community will not end after C!Print finishes, with live demonstrations continuing over at the new Mimaki Experience Center in Paris (opening February 2022).

Don't miss out on this opportunity to reconnect with Mimaki and the wider industry. To register for free entry to Salon C!Print, use Mimaki invitation code E-MIMACPL22 or go here:

https://www.salon-cprint.com/commande-de-badge/?payment_promo_code=E-MIMACPL22

Related News
Latest News Digital Printing
More News from Mimaki Europe B.V.

Latest News