Digital Printing
2022-03-10
Snuggle implements Kornit Atlas MAX Systems to support sustained growth in sustainable, efficient production on demand

Kornit Digital Ltd. (NASDAQ: KRNT), a worldwide market leader in sustainable, on-demand, digital textile production technologies, announced today that Peterborough, United Kingdom-based print provider Snuggle has installed two Kornit Atlas MAX systems for superior versatility in their on-demand fulfilment production operations. A Kornit customer since 2017, the addition of Kornit's most advanced direct-to-garment production systems reflects Snuggle's sustained profitability and growth since that time.
"The Atlas MAX technology provides a marked improvement in quality; it gives you that edge and something different."
Kornit Atlas MAX is the first digital direct-to-garment production system to feature XDi technology, which empowers users to simulate embroidery, dye sublimation, vinyl heat transfer, and 3D graphic effects with one single-step platform, using Kornit's eco-friendly NeoPigment™ inks. Delivering superior graphic detail, consistent retail quality, and low and consistent cost per print to ensure profitability in any quantity, the system is engineered for adaptability to long-term automation needs, which helps businesses like Snuggle address the ongoing labour shortage.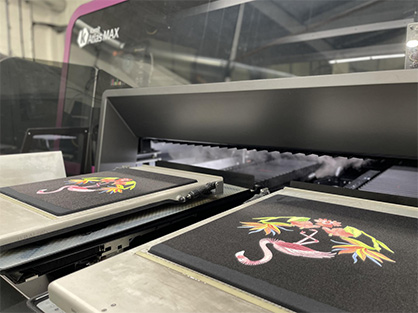 © 2022 Kornit Digital
With seven Kornit Digital systems in total, Snuggle is now able to produce up to 12,000 units daily, and has expanded its production space more than threefold since first investing in the technology. While the business does include an embroidery unit, Snuggle rejected screen printing due to its slow setup process, inefficient sampling for bulk orders, and the inability to generate profit from smaller custom orders. Furthermore, digitally-enabled production on demand was critical to their adapting when the pandemic economy caused many customers to cancel bulk orders suddenly.

"Our choice has always been based around speed and quality," said Shabbir Maimoon, Director and Co-Founder at Snuggle. "The Atlas MAX technology provides a marked improvement in quality of prints with better opacity of white ink on dark colours than ever before. It enables you to print 3D so you have the raised prints and can do things that a lot of brands are looking for. It gives you that edge and something different."

"Eliminating many of the drawbacks associated with slow analogue processes that require considerable labour and production space, Kornit Atlas MAX is by far the most capable technology available for sustainable printing on demand, and thus best able to answer the needs of consumers, no matter the dynamics and challenges of today's marketplace," said Chris Govier, Kornit Digital Europe, Middle East, and Africa President. "Snuggle's success speaks for itself, and we're proud to support them with the retail quality, reliability, and business agility to capitalize on new business opportunities, manage inventory effectively, reallocate resources for long-term growth, and answer the call for conscientious production practices.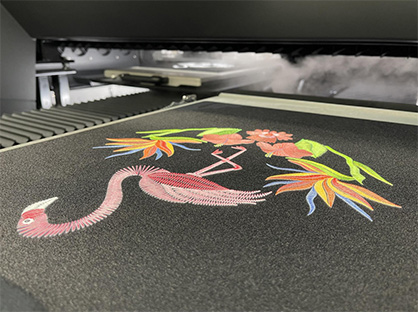 © 2022 Kornit Digital
Kornit is writing the operating system for sustainable fulfilment on demand, and operations like Snuggle demonstrate the power of digital for taking control of the end-to-end experience and boosting the bottom line."

Related News
Latest News Digital Printing
More News from Kornit Digital

Latest News