Yarn & Fiber
2017-08-24
RadiciGroup teams up with Atalanta in Europe
Today, at the prestigious Grimaldi Forum in the Principality of Monaco – where tomorrow, Friday, 25 August, the 2017-2018 UEFA Europa League group stage draw is taking place – Atalanta Bergamasca Calcio and RadiciGroup signed an official agreement for the UEFA Europa League and the Italian TIM Cup.
The Bergamo Group backs the Nerazzurro Club in the UEFA Europa League and the Coppa Italia
RadiciGroup, a multinational founded in the Province of Bergamo and led by the three brothers Angelo, Maurizio and Paolo Radici. The Group is engaged in the chemicals, plastics and synthetic fibres businesses and present in 16 countries in Europe, Asia, North America and South America, with 33 production and sales sites and over 3,000 employees.
At the signing of the agreement, Maurizio Radici, vice president of RadiciGroup, stated: "Our Group was established over 75 years ago in the valleys of Bergamo and from here it has grown and diversified its business activities, becoming the second-ranking European producer of nylon and polyester, two materials used in a multitude of applications, including sport and particularly football. From football jerseys to sport accessories, stadium seats and artificial grass yarn for synthetic turf." "Playing a part in these two football events,"
Mr. Radici continued, "seems to be the right opportunity to emphasize our strong attachment to the territory where we were born and, at the same time, highlight our desire to look beyond our national borders and focus specifically on the European market."

"It's with great satisfaction that we have been able to strengthen our partnership with this important large international group founded and deeply rooted in Bergamo," Luca Percassi, managing director of Atalanta B.C., affirmed. "The Atalanta-RadiciGroup team-up will help each other to continue growing, not only in the national setting but also at the European level."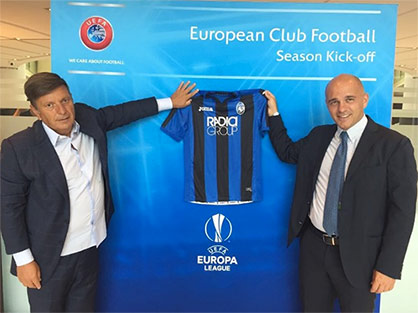 (c) 2017 Radici
Related News
More News from Radici Partecipazioni SpA

Latest News