Yarn & Fiber
2017-03-27
50th Anniversary celebration of Bangkok factory

Management of Toray Group companies in Thailand with the guests (c) 2017 Toray
On January 26, 2017, Thai Toray Synthetics (TTS) Bangkok Factory celebrated fifty years of operation. A grand celebration with more than 700 participants was held on January 25 at Rama Gardens Hotel Bangkok to mark this occasion.
Kenji Ito, Factory Manager of Bangkok Factory, welcomed all attendees including guests. The event started with an opening speech by Koji Hashimoto, Managing Director of TTS and congratulatory speeches by Ryosuke Chono, President of Toray Industries (Thailand) Co., Ltd. (TTH), and by Mr. Somboon Homnan, Director of Bangkhen District Office.
As part of the event, historic achievements as well as signature products of the company from the past 50 years were exhibited right before the entrance of the hall. This was not only to show how tough it had been but also how comfortable and happy all management and employees had been over the years and made the company what it is today. On the exhibition boards, current management members eagerly expressed and ambitiously presented the company profile and its past glories. There was also a mourning corner for participants to remember the late His Majesty King Bhumibol Adulyadej.
The Bangkok Factory and management members received tons of flower baskets and congratulatory gifts from guests and business partners. The participants and guests also enjoyed Thai Dance performances by students of the local Wat Lad Pla Kao and Wat Laksi elementary schools.
To make the event more fascinating, the organizer provided music performance by a local band and also a lucky draw for employees. In addition, awards were presented to employees who contributed to the company for continuous production improvements such as Kaizen and small group activities, as well as in designing the 50th anniversary logo.
Last but not least, the Bangkok Factory together with management members and all employees are very pleased with its business operations until today. We are proud to move the company forward and continuously improve and develop every single product, while taking utmost care to provide environmental friendly solutions and responsibly paying attention to local communities.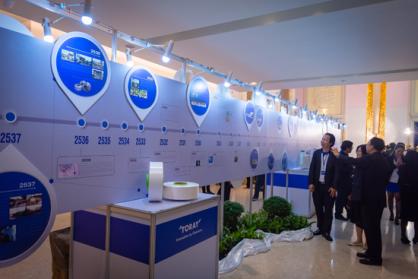 Pic: Exhibition at the 50th anniversary ceremony
Related News
More News from Toray Industries, Inc.

Latest News