Textiles & Apparel / Garment
2017-10-05
Schoeller receives Keyhouse Hightex Award
The Munich Fabric Start tradefair awarded Schoeller with a Hightex Award for excellence in sustainability. The awarded Schoeller product is a schoeller®- soft-shell fabric with ECONYL® yarn, which received 2nd place. The Hightex Award is the innovation prize of Munich Fabric Start at Keyhouse as a recognition of outstanding performance in terms of forward-looking product development.
The awarded material is a doubleface with smooth, color-contrasting reverse in ECONYL® yarn.
The special feature of this soft-shell is its complete sustainability; even the bio foam in the centre is based on renewable raw materials. Water repellence is ensured by the new fluorocarbon-free ecorepel® Bio technology, also based on renewable raw materials. Outstanding wind and weather protection is provided by the two-layer schoeller®-WB formula with climate-regulating c_change® membrane.

Schoeller textiles manufactured with ECONYL® yarn, an Aquafil S.P.A. property, are genuinely upcycled from regenerated waste material. The ECONYL® Reclaiming Program reduces the worldwide quantity of waste by collecting regenerable material from waste disposal sites, as well as ocean waters, and reintroducing it into the production cycle. The resulting yarn in no way differs in quality and performances from conventional textiles. The Schoeller fabric family with ECONYL® yarn encompasses a complete package with diverse exciting qualities such as ultra-light, bi-elastic schoeller®-dynamic (e.g. for windbreaker), very soft, fine schoeller®-dryskin (e.g. for high-tech sports) and a variety of light schoeller®-WB-400 weights.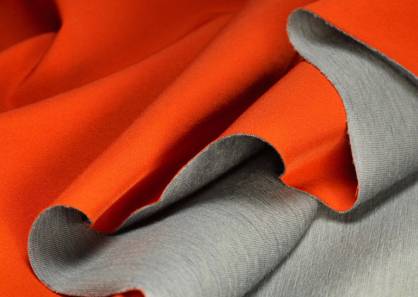 Schoeller- soft-shell fabric with ECONYL yarn (c) 2017 Schoeller
Related News
Latest News Textiles & Apparel / Garment
More News from Schoeller GmbH & CoKG

Latest News