Textile chemistry
2015-09-03
TANATEX Chemicals runs Dutch Dam to Dam for charity
TANATEX Chemicals will run the famous Dam to Dam run in the Netherlands for charity on September 20th, 2015, with a total of 19 runners. The producer of innovative textile processing solutions from the Netherlands hopes to raise at least € 2.500,- for Michael-Wings, a foundation that contributes to the realization of internet to bed on pediatric wards of hospitals and care centres in the Netherlands.
Many employees of TANATEX are fanatic runners; a great reason to run the ten miles from Amsterdam to Zaandam together. All runners are encouraged to run for charity by the Dam to Dam organisation. "We have chosen this charity because one of our runners has benefited from the facilities of Michael-Wings. It boosts all participants to run faster and cross the finish line", explains CEO Marco de Koning. Michael-Wings was chosen by one of the runners, whose son got seriously ill in 2008.
His son spent three weeks in hospital, where he was able to stay in touch with family in friends: "an 11-year old child does not read books all day. Thanks to a laptop and internet connection, he was able to chat and skype with his friends. It was a great way to forget his illness for a while. He felt like a child again, not just a patient, something you would wish for every ill child."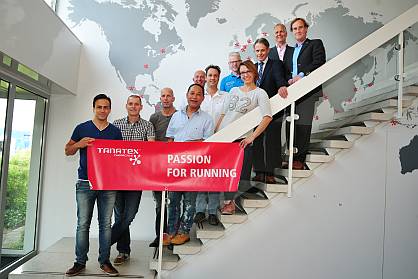 Pic: The Tanatex "Passion For Running" team (c) 2015 Tanatex
Related News
Latest News Textile chemistry
More News from Tanatex Chemicals B.V.

Latest News