Spinning
2015-05-21
Premiere for Retech at Techtextil Frankfurt
Techtextil 2015 has shown itself to be the undisputed centre of innovation in the field of high-tech fabrics, smart textiles and processing technologies. RETECH AG attended this show for first time and as a textile machine component manufacturer in the field of thermal and mechanical processing of synthetic filaments the company was able to show its products to international customers, where they were met with much interest.
A lot of visitors were delighted by the heated godet rolls for the many sided applications in spinning. They are suitable for highest temperature and speed ranges up to 7000 m / min, with energy saving motors and temperature efficient heating or active cooling concepts, including control units.Also in the centre of interest were the air bearing separator rolls (ABSR), in extended range of dimensions, for all highest demands in terms of high speed and long service life, even in the case of hard usage for high end technical yarns.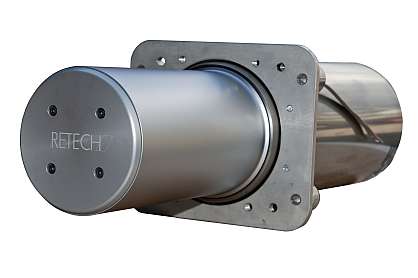 Pic: Retech heated godet rolls
Another highlight was the Win-OLT yarn tension sensor for the complete monitoring of DTY and or spinning machines for the improvement of quality in yarn production by means of on line monitoring. The performance range includes the complete system together with the necessary software, service and spare parts, as well as single yarn tension sensors.
The development of innovative, efficient and high quality draw machines built to the customers specification was discussed with several visitors and the modification, conversion and upgrading have also been vital topics. Integration of new technologies becomes essential in order to achieve sustainability in many respects including environmental protection, energy usage in combination with maintenance cost reduction and user-friendly operation.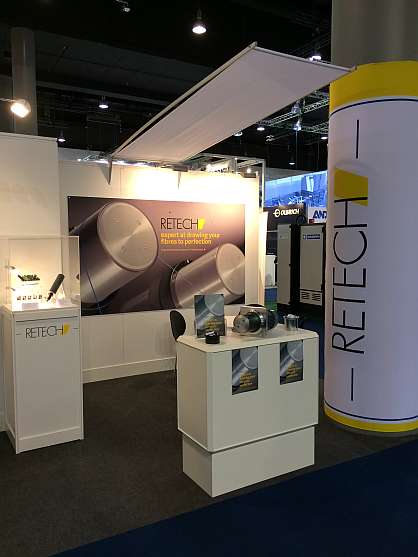 Pic: Retech booth at Techtextil
For Retech it was the right decision to be at Techtextil Frankfurt. During the show, they could meet and discuss with many existing customers and also very important, new, potential customers showed interest in their products. Retech thanks everybody that visited the booth and is looking forward to future partnerships and collaborations.
Related News
More News from Retech Aktiengesellschaft

Latest News