Spinning
2017-10-26
Rieter Award 2017 awarded four times
From 28 August to 2 September 2017, Rieter Award Week 2017 was held at the Rieter Headquarters in Winterthur (Switzerland). For around three decades, the Rieter Award has been a firm component of the company's program to encourage its trainees – and is an institution in the textile industry. This year, there were four new prize winners. The Rieter Award Winners' Club now has 177 members.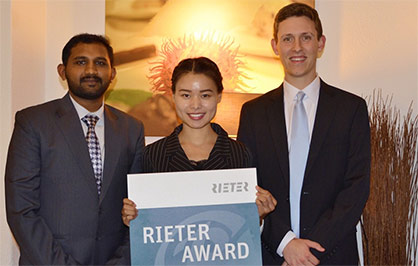 Pic: The Rieter Award prize winners 2017 (from the left): Salman Ahmad (Pakistan), Mengru Li (China), and Matthew James Coats (US). Not in the photo: Dogukan Vanlioglu (Turkey) (c) 2017 Rieter
The Rieter judges were totally convinced by the in-depth scientific work of this year's award winners on the subjects of yarn and surface technology, textile materials, and digitization. The four prize winners from China, Pakistan, Turkey, and the US are:
Mengru Li, Wuhan Textile University, China
Salman Ahmad, National Textile University, Pakistan
Dogukan Vanlioglu, Dokuz Eylul University, Turkey
Matthew James Coats, North Carolina State University, US
Rieter congratulates the winners and is pleased with the talented textile trainees. The award included an invitation to visit Rieter Headquarters, which this year's Turkish prize winner, Dogukan Vanlioglu, was unable to accept. For a week, the three visiting prize winners not only got to know Rieter better, but also gained interesting insights into Switzerland. All the winners received their respective awards at a ceremony held at the university in their home country.

The Rieter Award promotes young talent
The Rieter Award has been given to students and young trainees every year since 1989. With the prize, Rieter promotes young talents and thus also supports universities and institutes in their efforts to win outstanding new recruits for textile training. The Rieter Award winners are selected globally from students and young trainees in the textile technology industry who are distinguished by their sound work and great commitment.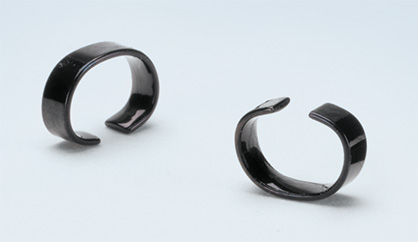 Pic: Cheerful prize winners on a visit to the cheese-making factory in Stein in the Canton of Appenzell (from the left): Salman Ahmad, Mengru Li), and Matthew James Coats (c) 2017 Rieter
Related News
More News from Rieter Textile Systems

Latest News