Spinning
2015-07-01
Rieter – Solutions in automation and innovations at Shanghaitex

A delegation of the China National Textile & Apparel Council (CNTAC) visits the Rieter booth. LTR: Mr. Yang JiChao (Vice President of CNTAC), Mr. Wei Huang (Marketing Manager Intelligence, Rieter China Textile Instruments Co.), Mr. Simone Rancan (Managing Director Rieter China), Mr. Reto Thom (Head Sales Rieter Machines & Systems) (c) 2015 Rieter
From 15 to 18 June the 17th international textile industry exhibition ShanghaiTex 2015 was held at the Shanghai New International Exhibition Centre. Over 1 000 local and international exhibitors participated in the exhibition. Already on the first day, it attracted thousands of visitors from all over the world. Rieter delighted its customers with solutions in automation and innovations.
In Hall E1 Rieter presented the 4 end spinning technologies, as well as the 4 Rieter Com4® yarns and their application in fabrics and end products. Furthermore the new RSB-D 24 double-head autoleveller draw frame was shown. This innovative machine achieves a high productivity of 2 x 1 100 m/min and features independent machine sides as well as autolevelling functions. Each head therefore produces exactly the same quality and productivity already known from the RSB-D 45 single-head draw frame.
High Ranking Visitors
On the Rieter booth Mr. Reto Thom (Head Sales Rieter Machines & Systems) welcomed the VIP delegation of the China National Textile & Apparel Council (CNTAC), led by the Vice President Mr. Yang JiChao. Rieter's long-standing commitment to sustainability was highly commended by the VIP guests.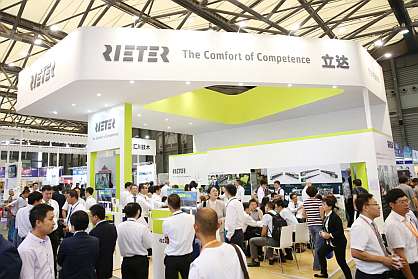 Pic: The well-visited Rieter booth
Rieter Award China Ceremony
This year's winner of the Rieter Award China 2014, Mr. Xia Liangjun from Wuhan Textile University, was presented with the Award by Mr. Reto Thom and Mr. Michael Danielsson (Head Sales Rieter China). In September, Mr. Xia Liangjun will participate in the Rieter Award Week in Switzerland. Together with winners from the other countries, he will be invited to visit the Rieter headquarters in Winterthur and view the production facilities.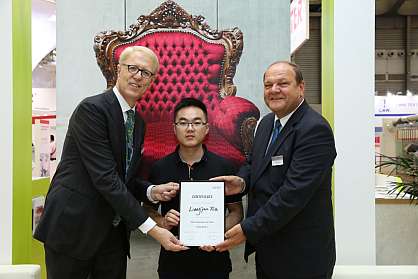 Pic: Xia Liangjun from the Wuhan Textile University is presented with the Rieter Award China 2014
Related News
More News from Rieter Textile Systems

Latest News