Shanghaitex-2013
2013-06-05
VERDOL at Shanghaitex 2013

Shanghaitex will be the major event this year in China and Asia. The VERDOL SAS Company (Hall: W3 / Booth: M04) will be present on the Show and will offer on its booth one of the most complete ranges of Technologies & Machinery for the Processing of Filament Yarns.
Amazing range for Textile yarns processing
"Twisting, Covering, Assembling, Cabling, Rewinding - VERDOL has got always the perfect solution!", says Gérald Alligros, VERDOL' s Head of Marketing.
VERDOL offers today the most complete range on the market of:
Twisting machines for embroidery and sewing thread applications,
Single and double covering machines for hosiery, stockings, sportswear and technical yarns,
Air covering machines for hosiery, stockings and sportswear…
Combined machines to twist and shrink nylon yarn through thermal treatment.
T&I Yarns: One step further in innovation
Every application has its specific twisting and cabling quality demands in order to fulfill the final end-use requirements. The range of VERDOL cabling, twisting and assembling machines exactly fulfils this challenging target.
The UT, UTC and UTW machines are known all over the world for their huge flexibility. Different products can be twisted on each spindle thanks to fully individual driven positions, from spindle to take-up. The VERDOL machines focus on energy saving and keep the same perfect ergonomic.
VERDOL offers a new direct cabling machine CP 20 for Tire Cord, with a complete new design from the frame to the textile equipment, among other advantages such as energy saving, easy ergonomics…and the UTW 40, dedicated to 3-ply cord cabling in a single step process.
Carpet yarns: Focus on reducing energy consumption
VERDOL is a major player supplying machinery in the field of cabling and twisting for synthetic filaments and spun yarns. For the Cabling & Twisting process, the Company offers a wide range of machines with mechanical spindles: CD, DT and CDDT, now available with ecoTex®, the well known technological textile components with a significantly reduced energy consumption. They are designed to process each type of yarn as economically as possible and in compliance with an industrial and ergonomic environment.
VERDOL offers one of the most complete product range of textile machinery on the carpet market namely:
EcoTex® by VERDOL – Master energy saving welfare!
Wool-Touch® by VERDOL - Discover the outstanding Spun Yarn effect!
Glass Yarns: Worldwide reputation
VERDOL reacts to its customer's demands by offering its products everywhere and supplying permanently the machines that best fits the customer's needs. VERDOL is always in search of new ways to increase its equipment performances.
M.U.S.T. - Monitoring Unit System for Textile machinery: Production under control!
VERDOL will bring out its complete and comprehensive plant management system, M.U.S.T., (Monitoring Unit System for Textile machinery) already installed at major carpet, glass and T&I yarn producers. M.U.S.T. enables a live overview of process information, production results and quality control data at all levels from the cabler & twister to the weaving looms. Its web-based conception ensures remote access, gateway with main ERP systems, mobile application on PDA, displaying on wallboard etc … for a comprehensive efficiency.
Verdol SPS: A new team at service!
Focusing on continuous improvement of Service, VERDOL SPS, standing for Spare Parts & Services, has deployed a reinforced structure in order to always satisfy customer needs better.
The Verdol SPS policy relies on a strong and available customer service that includes:
Spare Parts Top-Up Stock to ensure availability of most demanded OEM Spare Parts,
A Dedicated Representative for each region of the world relying on a complete agent network,
Life Cycle Management of your equipment through Maintenance, Repairs and Upgrades,
Full Support to Customers for a long term business relationship.
VERDOL SPS offers also available machine Upgrades such as EcoTex®, Wool-Touch® or its famous AMIB Yarn Tensioner and many others.
By contacting us through our local agent or directly to our main office in France, customers will enjoy the difference of working with the Original Equipment Manufacturer of their twisting, cabling or covering machines, giving them the advantages to pull ahead from their competitors.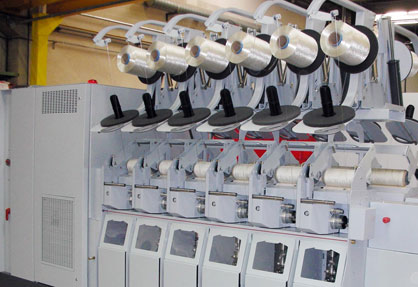 Pic: Direct cabling machine CP 20 for Tire Cord
Related News
Latest News Shanghaitex-2013
More News from VERDOL (Reyes Groupe)

Latest News