Nonwovens / Technical Textiles
2017-10-30
EDANA announce dates & locations for OUTLOOK 2018 & 2019
The world's premier conference for nonwoven personal care and hygiene products moves to Dubrovnik and Athens.
EDANA have confirmed the dates and locations of OUTLOOK™ 2018 and OUTLOOK™ 2019.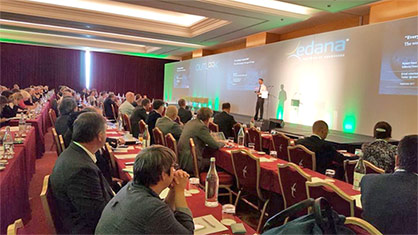 (c) 2017 EDANA
Attracting over 450 senior industry professionals each year, OUTLOOK has established itself as the key industry event for the hygiene and personal care sector, showcasing EDANA's mission to support the growth and sustainable development of the industry. OUTLOOK™ 2018 will be held at the Rixos Libertas Hotel in Dubrovnik from the 17th to the 18th of October, with OUTLOOK™ 2019 scheduled from the 9th to the 11th of October in Athens at the InterContinental Hotel.
OUTLOOK™ attendees come from across the entire nonwovens value chain and around the globe. Feedback from participants of all recent events has been overwhelmingly positive, with delegates appreciative of the mix and quality of expert content and opportunities to meet with industry peers, making OUTLOOK™ a unique 'must-attend' event for nonwoven professionals.

"It has been extremely rewarding for EDANA to facilitate industry dialogue and witness key nonwoven professionals collaborate at our events," said Pierre Wiertz, General Manager of EDANA. "We are very much looking forward to taking this event to Dubrovnik for the first time and to a return to Athens. Ensuring we cover a wide geographical area is of key importance to the ongoing success of OUTLOOK™."
For further information on OUTLOOK™ please visit:
https://www.edana.org/education-events/conferences-and-symposia/event-detail/outlook-2018/

Related News
Latest News Nonwovens / Technical Textiles
More News from EDANA

Latest News