Nonwovens / Technical Textiles
2017-09-13
EDANA opens registration for Middle East & North Africa Nonwovens Symposium 2018
The event provides unique meeting place for the nonwovens industry in the Middle-East and North Africa Region (c) 2017 EDANA
EDANA, the leading global association and voice of the nonwovens and related industries, has opened registration for the 4th edition of its MENA Symposium. The conference, the ideal platform for key nonwoven professionals around the globe to network, do business and catch-up on the exciting potential of the MENA region, will be held on 6 and 7 February 2018 in Park Hyatt Hotel, Dubai.
The conference and tabletop exhibition seeks to engage businesses from the region, and address challenges such as the harmonisation of trade rules and regulations within these markets, to answer the needs of members across the region, and provide a forum for companies from both the Middle East and across Europe and the globe to meet and do business.

Participants will have the opportunity to learn of the latest trends and developments in technologies, markets and applications with presentations by expert speakers from leading governmental and non-governmental organisations, top regional and global companies, presenting important trends and developments. Sectors addressed range from hygiene and healthcare to geotextiles and construction.
Registration for this event is now open. For further information and details on how to register or reserve display space in the tabletop exhibition please visit
https://www.edana.org. :p
]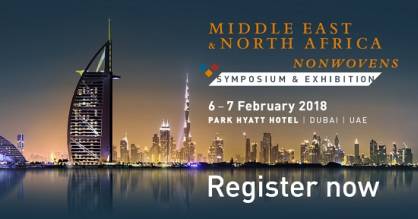 Call for papers

EDANA are now also inviting papers for the conference. Please send abstracts for consideration to: helene.colbach@edana.org. This should include a proposed title, 3 to 4 bullet points summarising the presentation and the full contact details of the speaker.
Related News
Latest News Nonwovens / Technical Textiles
More News from EDANA

Latest News