Nonwovens / Technical Textiles
2017-07-27
RISE® 2017 announces expanded program
The Research, Innovation & Science for Engineered Fabrics Conference, announces an expanded program with 25 innovative industry leaders presenting an unmatched and critical dialogue on the theme "This Changes Everything", Sept. 12-14, 2017 at the Sheraton Raleigh Hotel, Raleigh, NC. RISE®, now in its seventh edition continues to connect new and emerging technologies with near-term commercial applications to solve immediate real-world industry needs.
Detailed conference registration, program information is available on www.inda.org/events/rise17 – organized by INDA, the Association of the Nonwoven Fabrics Industry.

The expanded innovative program agenda explores: The future of Manufacturing, Moisture Management, Nonwoven Structures, Inventing the Future, Advanced Materials Performance, Wetlaid Nonwovens, Technology and Money, Advanced Biomaterials, Advanced Machinery, Industry updates in Nonwoven Market Changes, and Government Affairs.
"The RISE® Conference embraces INDA's mission to stimulate, and recognize innovation. Without doubt there will be occasions in the program when like-minded, forward-thinking technology professionals have a collectively "Ahaa" moment as the potential impact of a new approach to a material science challenge is revealed. For Technology Scouts and New Product Innovators this will truly be an event not to be missed," says Dave Rousse, INDA's President.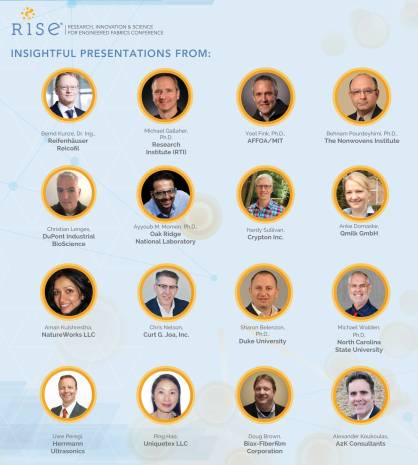 Research, Innovation & Science for Engineered Fabrics Conference highlights rethinking, developing, implementing and economic impacts of new products (c) 2017 INDA
A sampling of speaker presentations include:

Bernd Kunze, Ph.D., Rethinking, Developing and Implementing New Products – Reifenhäuser Group
Michael Gallaher, Ph.D., Modeling Economic Impacts of New Industrial Technologies –Research Triangle Institute
Yoel Fink, Ph.D., Realizing Moore's Law for Fibers – Advanced Functional Fabrics of America (AFFOA)
Behnam Pourdeyhimi, Ph.D., The Future of Nonwovens – The Nonwovens Institute
Christian Lenges, Ph.D., Enzymatic Polymerization: PolySaccharides & Engineered Fabrics Applications – DuPont Industrial BioScience
Ayyoub Momen, Ph.D., Drying Webs by Mechanical Vibration, Not Heat – Oak Ridge National Laboratory
Viraj Shah, Novel PE for Spunblown Applications –The Dow Chemical Company
Chris Nelson, Evolving Lightweight Materials and How to Run Them – Curt G. Joa, Inc.
Hardy Sullivan, Moisture Management Using New Surface Modification Technologies – Crypton Inc.
Sharon Belenzon, Ph.D., Declining Science in Corporate R&D – The Fuqua School of Business, Duke University
Michael Walden, Ph.D, Economic Trends & Disruptors – North Carolina State University
Doug Brown, Recovering Heat with Polypropylene Spun-blown® Fibers – Biax-Fiberfilm Corporation
Keith Osteen, Trends in Three-Dimensional Nonwovens – Smith, Johnson & Associates
Aman Kulshrestha, Ph.D., and Tim Vanyo, PLA Fibers Sustainable Innovations – NatureWorks LLC
Ping Hao, Advanced Elastomerics Superior Stretch and Recovery – Uniquetex LLC
Alexander Koukoulas, Renewable Fibers and Potential Impacts on Nonwovens – A2K Consultants
Arsheen Allam, Desalination with Reduced Graphene Oxide Based Membranes – GO Leaf
Anke Domaske, The Most Innovative Combination in the Nonwoven Market – QMILK GmbH
Uwe Peregi, Bonding of Lightweight Nonwovens – Herrmann Ultrasonics
Jessica Franken, Government Affairs Update –INDA
Brad Kalil, Market Dynamics and Trends Driving Nonwovens Innovation – INDA
Related News
Latest News Nonwovens / Technical Textiles
More News from

Latest News