Nonwovens / Technical Textiles
2017-06-01
EDANA - Martin Rapp returned as board chair with renewed strategic ambition
EDANA, the leading global association serving the nonwovens and related industries, today announced its new Board of Governors for 2017 - 2018.
Chairman Martin Rapp (Vice-President and General Manager at Glatfelter) will again provide expert leadership, ably supported by re-elected Vice-Chairs Mikael Staal Axelsen (Fibertex) and Pieter Meijer (McAirlaid's). Paul Eevers' (Unilever) position as Treasurer was also renewed for another one year term. Announced at EDANA's Annual Strategic Review and AGM on May 31st, the newly elected Board will begin their term on July 1st.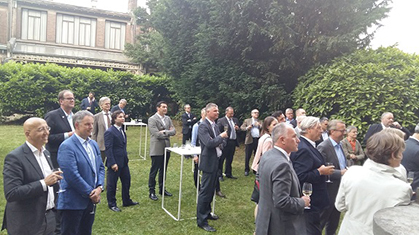 Election of the board, (c) EDANA
In addition to his long-standing support of the association as a board member, Martin is the Chair of the Communications Steering Group, and has ensured widespread member backing for a broad range of EDANA initiatives throughout his tenure. "It is naturally an honour to be re-elected, but it is even more pleasing to witness the extensive and growing commitment of our members to a productive network" said Mr. Rapp. "As we continue to regularly welcome new members, it is very encouraging to see such tangible momentum. My ongoing focus will be to ensure that our activities meet our strategic interests of stakeholder engagement, global outreach and sector expansion."

This year's review of strategy and objectives featured update presentations from key EDANA working groups and committees. "The interactive element of our assembly confirmed to me the commitment of our staff and members alike. Many of the meetings focused on far reaching and innovative topics, where I witnessed passionate yet perceptive debate. Today's discussions and conclusions have assured me of the successful future of not only our association but also our industry" said Mr. Pierre Wiertz, General Manager of EDANA.

The following Governors were re-elected for an additional 3-year term:

Mr. Ludwig Busam (Procter & Gamble, Germany)
Mr. Eric De Kesel (Mölnlycke Health Care, Sweden)
Mr. José Durany (Rubi Industrial, Spain)
Mr. Robert Green (NatureWorks, United States)
Mr. Mahdy Katbe (Unicharm Gulf Hygienic Industries, Saudi Arabia)
Mr. David Lamb (Nonwovenn, United Kingdom)
Mr. Giorgio Mantovani (Corman, Italy)
Mr. Pieter Meijer (McAirlaid's Vliesstoffe, Germany)
Mr. Martin Rapp (Glatfelter Germany)
Mr. Ali Sisman (Hassan Group, Turkey)

The following Governors were elected as new Board members for a 3-year term of office:

Mr. Marco Cirillo (Johnson & Johnson, United Kingdom)
Mr. C. Enver (Kayali Mogul, Turkey)
Mr. Jörg Ortmeier (TWE Group, Germany)
Mr. Mark Siebert (Berry Global, Spain)

A complete list of the EDANA Board of Governors is available on EDANA website.

Related News
Latest News Nonwovens / Technical Textiles
More News from EDANA

Latest News