India ITME 2016
2016-11-03
Made-to-measure Mayer & Cie. portfolio at the ITME
A highly productive interlock machine, a mattress cover specialist and a spinning and knitting machine that can produce patterns. That is, in a nutshell, the product portfolio Mayer & Cie. will be presenting in Mumbai from 3 to 8 December 2016. At the Indian Mayer representative Batliboi stand H5 B19 visitors will find a D4 2.2 II HPI, an OVJA 1.6 EM HS and a Spinit 3.0 E equipped with the new Fancy module.
Knitting machine manufacture demonstrates innovation and performance
With each of these three machines the German knitting machine manufacturer aims to fulfil central requirements of the Indian market and at the same time to underscore its claim to technology and innovation leadership.
D4 2.2 II HPI: the world's most productive interlock machine
"Demand for interlock fabrics is very high in India and throughout the region," says Timo Schramm, Sales Manager India, Mayer & Cie. "So the market is fiercely contested. With the D4 2.2 II HPI we have succeeded in gaining really good access to the market once more, and we have made significant headway, especially against local manufacturers."
First unveiled at the 2015 ITMA in Milan, the D4 2.2 II in its high-performance version, the HPI, is highly popular in India. Last year Mayer & Cie. completed two projects, each involving the sale of several dozen machines.
The key strength of the D4 2.2 II HPI is its productivity, which is twice to three times that of a conventional interlock machine. With the D4 2.2 II a knitter can produce up to 400 kg of fabric per day. It knits with 4.4 systems per inch with an overall diameter of 30 inches. With 132 systems in all, the machine runs at 34 rpm – a speed and a number of systems at which it is way ahead of the field.
Along with its output, Timo Schramm says, the range of yarns the machine can knit accounts for its success. "The D4 2.2 II works with synthetic yarns just as fast and reliably as with staple fibres; it can even handle 100% cotton. That puts us well ahead of other knitting machine manufacturers."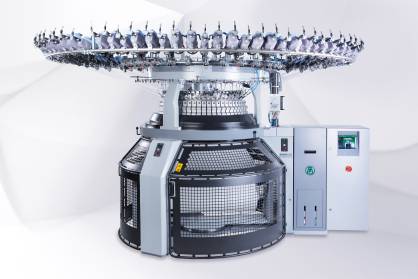 Pic: Mayer & Cie. OVJA 1.6 EM HS
OVJA 1.6 EM HS: a flexible high performer
Performance is a focal point of the OVJA 1.6 EM HS too. At 30 rpm and 38 inches the machine achieves a speed factor of 1,140. So, compared with its predecessor, the OVJA 1.6 EM HS delivers 25% more performance. Flexibility is the second strong point of a machine that knits double jersey Our performance for your profit jacquard fabric and double layer with weft thread. Electronic single needle selection in the cylinder is an important prerequisite for a wide range of patterns and weights.
"With our tried and tested OVJA family of machines we offer a range of high-quality solutions for the manufacture of mattress cover fabrics," Schramm says. "The OVJA 1.6 EM HS is our most powerful specialist in a segment that is growing continuously in India. That is why we are exhibiting it with an industrial frame at the ITME."
Spinit 3.0 E with the Fancy module, patterns included
The Spinit 3.0 E spinning and knitting machine will be on show "live" at the ITME, equipped with the Fancy module. With the Fancy module the machine, which combines three previously separate operations, can produce patterns. Via the electronically controlled drafting systems, different yarn counts can be generated in the ongoing process. Unique patterns, characterised by a free alternation of transparent and opaque areas, are created. Michael A. Tuschak, who is in charge of spinitsystems
marketing and sales at Mayer & Cie., says: "Our Spinit 3.0 E already offers a wide range of benefits in relation to production times, energy requirements and CO2 footprint. In the Fancy module we can offer our customers yet another distinguishing feature which we are exhibiting at the ITME because the Indian market is very important for Spinit."
Pic: Mayer & Cie. Spinit
Related News
Latest News India ITME 2016
More News from Mayer & Cie. GmbH & Co.

Latest News