Index 2014
2014-02-21
Trevira at Index 2014
At Index 2014, Trevira presents polyester and bicomponent fibres for nonwoven applications in hygiene products, filtration, insulation, construction, the paper industry, composites and other materials.
Trevira's range of staple fibres for nonwovens includes:
Bicomponent fibres for thermal bonding, used in hy giene products such as napkins and lady care, as well as in technical nonwovens, e.g. for insulation and filtration materials in the automotive sector.
Short cut fibres for airlaid and wetlaid applications, e.g. hygiene products or the paper industry. A part of this range is also available as bicomponent, PLA (Ingeo™) and permanently flame retardant fibres.
Customized fibres for special customer applications.
Permanently flame retardant fibres for nonwoven applications, e.g. for insulation, filtration and also as filling fibres for bedding.
PLA fibres (Ingeo™): The biodegradable (compostable) fibres made from renewable plant compounds are currently available in various versions. Trevira is producing different types applicable for spunlace, wetlaid and carding applications. Possible end uses are wet wipes (e.g. cleaning cloths), hygiene products and technical nonwovens.
Special types for hydro-entangled nonwovens. These are not only employed in the manufacture of wet and cosmetic wipes, but also increasingly in technical end uses
Trevira's product range for technical applications is completed by a vast range of flat and textured filament yarns, either in raw white, spun-dyed or yarn-dyed. They include permanently flame retardant types and hybrid versions with a low-melt component as well as elastic yarns and suit all kinds of specific technical applications.
Trevira: Fibre specialties for nonwoven applications and technical textiles
Trevira GmbH, Germany, manufactures high-value polyester fibres and filament yarns for the hygiene sector, technical applications, home textiles, apparel and the automotive industry. To meet the needs of manufacturers of non-woven products, the company offers a wide range of special fibre types. These prove to be both effective and indispensable in the hygiene industry and other special applications.
They are used in a vast variety of products, including napkins, ladycare, cosmeticpads, wet wipes and high-quality interlinings. They are also applied in technical nonwovens such as insulation and filtration materials. In close partnership with the customers Trevira creates new fibres which meet the requirements of the end product. In the inhouse technical centre a great variety of fibre types is being developed, from prototype through to the ready-for-market product, and transferred to production. Often these form the basis for innovative products and new fields of application.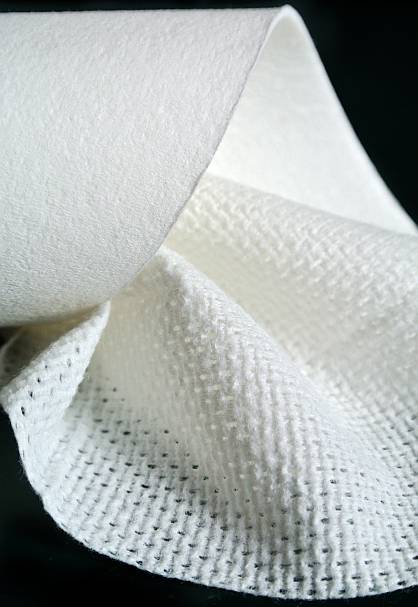 Pic: Nonwovens made from Trevira fibres

Sustainable manufacturing, environmentally friendly products
Polyester has many properties that from the outset make it a material that is compatible with the environment. It is non-toxic, gives off no gases, and is recyclable without difficulty or can be easily used as fuel to produce energy. It is kind to the skin and suitable for use in the food industry or medical sector.
Trevira's sustainability concept is based on optimising existing products within the polyester fibre programme, on increasing the use of renewable fibre raw materials (PLA) as well as on implementing a scheme to collect and recycle valuable materials accrued during production.
Based on quality standard ISO 9001, environmental standard ISO 14001 as well as on the standard for Energy Management ISO 50001, Trevira's environmental goals are constantly being improved and regularly revised. All Trevira products carry the Oeko-Tex Standard 100 seal.
Related News
More News from Trevira GmbH

Latest News