ITMA-Asia + CITME-2016
2016-09-29
AUTEFA Solutions presents themselves as a full line supplier for needlepunch nonwoven lines at ITMA Asia + CITME 2016

AUTEFA Solutions Automatic Needle Exchanger (c) 2016 AUTEFA Solutions
During ITMA Asia+ CITME 2016 AUTEFA Solutions informs about energy saving technologies. The Solutions V-Jet, is a new hydroentanglement system which saves up to 30% of the hydraulic energy required for the Spunlace process. The patented Jet-strip design enables a pressure reduction while keeping the tensile strength constant in comparison to a standard Jet-strip.
The Spunlace process is optimized with the Square Drum Dryer SQ-V, which has a significantly better energy efficiency and drying performance than a common Drum Dryer – at the same footprint.
In regards to efficiency and sustainability fiber and material recycling is in focus. The Tearing Machine UniRec is based on a modular design with additional available opening units. UniRec opens a large variety of nonwovens and textiles, even such made of Carbon fibers, while maintaining an adequate staple length of the fibers. 
AUTEFA Solutions customized concepts and service for complete needlepunch lines
The sales team of AUTEFA Solutions combines experts of the former companies Fehrer, F.O.R, AUTEFA and Strahm. During ITMA Asia the company presents the economic and technical advantages of AUTEFA Solutions as a full line supplier for needlepunch nonwoven lines.
AUTEFA Solutions needlepunch lines meet customers' requirements for quality web formation, bonding, active weight regulation, and minimal maintenance requirements. AUTEFA Solutions delivers turnkey nonwoven lines including opening and blending, chute feed, carding, crosslapping, needlepunching, drafting, and winding. With AUTEFA Solutions complete line performance equipment the company offers a solution for every customer.
Today, customers expect more technological support, a perfect spare part service and a solution for the cumbersome and expensive needle exchange. The performance of the needle loom increases once the needle loom will be not considered as a stand- alone machine. The combination of AUTEFA Solutions UNILINER CL 88, with a short web path, and the Needle Loom Stylus leads to higher fabric quality.
Automatic Needle Exchange- without manual intervention
With the Automatic Needle Exchanger 2.0 AUTEFA Solutions has a unique service machine for every needle loom. The Needle Exchanger enables a fully automatic process of needle rotation and exchange without manual intervention.
The machine exchanges single, all, or user defined segments of needles. The Automatic Needle Exchanger 2.0 offers an unprecedented level of needle management. The machine fits into every service workshop and increases efficiency and economy.  Some of the key figures are an operating speed of up to 1,500 needles/h and a needle magazine for more than 10,000 needles. For removing and setting of needles no direct involvement of operating personnel is necessary.
Nonwoven Card Web Master FUTURA- best access for cleaning and maintenance
Customer demands are driving AUTEFA Solutions new developments in nonwoven cards. The Web Master FUTURA card is specially developed and designed for high production speeds, tailored to the worldwide requirements for Nonwoven Lines.
The focus of the new card Web Master FUTURA is to improve maintenance. AUTEFA Solutions therefore completely reworked the Easy Opening System. The system is placed on high precision linear bearings, so after closing all rollers are exactly in the same position like before. The different parts of the card, means feeding group, first main cylinder, transfer group and doffers, are each placed on a separate carriage. The carriages are connected to each other by one screw on each side forming a "train" allowing easy and full access for cleaning and maintenance.  
AUTEFA Solutions reduces the energy consumption of a spunlace line
Dr. Joachim Binnig, Head of Development and Technology, explains: "AUTEFA Solutions started this project in 2012 and during our initial talks to customers we quickly realized that energy saving is a main topic for them. For this reason, we clearly focused on reducing the energy consumption of a spunlace line while still offering a perfect product quality. There are mainly two points where a significant energy saving is possible: the distance between nozzle and material and the drying process."
In classic systems, the minimum distance from nozzle to material is around 30 – 35 mm. Over that distance, the water jet loses energy by friction with the air and additionally widens. AUTEFA Solutions improved this situation by using a V-shaped jet-strip, so the exit of the nozzle is less than 1 mm away from the outer edge of the injector instead of 20 – 25 mm. AUTEFA Solutions proved that it allows to reduce the pressure by around 20 % leading to an energy saving of around 30 %.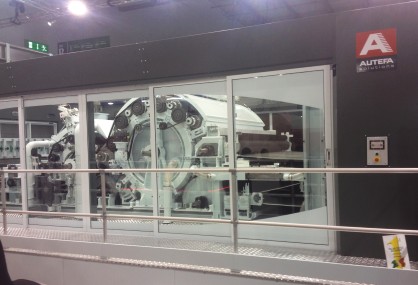 Pic: The new card Web Master FUTURA on the ITMA show
In standard drum dryers, there is only one heating zone. The material is dried with the same properties independent of its local humidity. And the heat capacity of the air can never be fully used and energy is wasted through the exhaust. The AUTEFA Solutions Square Drum Dryer SQ-V includes the special heat recovery systems EnRec, optimizing the energy consumption of the dryer. The air flow through the dryer is from material inlet to outlet and the air, establishing a counter flow which is known to be most efficient in heat exchange processes. This is supported by the at least 4 heating zones which can be independently controlled, meaning the optimal temperature for the local humidity of the material can be chosen. Furthermore, the AUTEFA Solutions Square Drum Dryer SQ-V includes uses the proven air nozzle systems which allow a perfect adjustment of the air flow to the material properties. In total, this allows energy savings of 30% or more in comparison to standard drum dryers. The SQ-V combines the best of both worlds: The low foot print of a drum dryer and the superior performance of a belt dryer.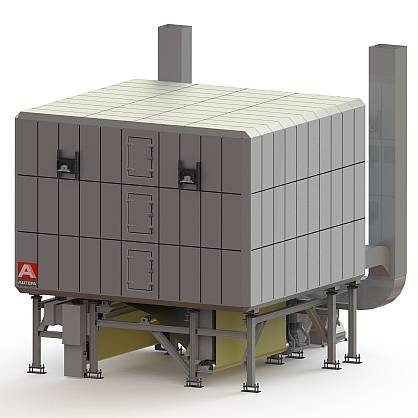 Pic: AUTEFA Solutions Square Drum Dryer SQ-V
AUTEFA's innovative solutions for carbon fiber processing and recycling
Using carbon fiber reinforced parts becomes more and more common around the world. However, this creates quite a lot of carbon waste, e.g. in a typical manufacturing process for carbon reinforced parts, the portion of waste is up to 40%, summing up to currently around 20,000 t/year worldwide – and this does not even include end-of-life parts. AUTEFA Solutions offers a complete recycling process for carbon waste, including opening of fabrics, web forming and web bonding, this being able to supply turn-key lines to create carbon nonwovens out of carbon fiber waste. AUTEFA Solutions has already sold two industrial lines for Carbon recycling in Europe and now wants to introduce these processes to Asia.
Technical applications e.g. the filtration business and particularly the growing demand for PTFE filters has a growing rate of 9,8% p.a. the highest in China. Automotive applications are growing in many areas but also particularly in China with 8% p.a. above average. The increasing demand for artificial leather mainly in Asia requires a higher number of new needle punch machines.
CAMPEN machinery and AUTEFA Solutions- a successful partnership
In March 2016, AUTEFA partnered with Campen machinery to develop new hydro laced airlaid process lines. "The feedback and the amount of inquiries from customer projects was very positive. This confirms that the Campen & AUTEFA Solutions Airlaids concept hits a specific need for medium and small size Airlaids production solutions." explained AUTEFA Solutions COO André Imhof. He added: "We are also proud to have our Canadian customer Westbond (www.westbond.ca) with us as first class reference. The benefit not only for the Asian market is that we can provide existing Nonwovens but also newcomers in this field a total solution out of one hand. Soon we will see also the need for flushable wipes being covered with the Campen & AUTEFA Solutions technology."
Special in the Chinese market there a growing interest in high speed thermobonding ovens for the manufacturing of ADL nonwovens, as well as for drying systems for the Airlaids and Wetlaids industry. The key strengths of the AUTEFA Solutions belt dryers are uniform airflow and the precisely adjustable temperature distribution, the ability to maintain loft or to create high densities. AUTEFA Solutions is a market leader in China for high speed air through thermobonding lines for hygiene products such as acquisition and distribution layers (ADL).
André Imhof explains: "The customer today is more demanding and requires best possible Total Cost of Ownership (TCO). The High productivity, the flexibility for various nonwovens products with low maintenance costs will increase the demand for top quality machines from AUTEFA Solutions."
AUTEFA Solutions represents companies with a long tradition and a history of years of successful participation in the market. Combining the experience of the companies AUTEFA, Fehrer, FOR and Strahm the company stands for high quality, durability and performance made in Europe. With AUTEFA Solutions Wuxi the company can provide professional service and support in China.   AUTEFA Solutions is part of China Hi-Tech Group Corporation (CHTC). China Hi-Tech Group Corporation is the world biggest successful textile machinery supplier.
Related News
Latest News ITMA-Asia + CITME-2016
More News from AUTEFA SOLUTIONS GERMANY GMBH

Latest News