ITMA-Asia + CITME-2014
2014-07-08
SSM looks back to a successfull ITMA Asia 2014

THE SSM booth at ITMA Asia + CITME 2014 (c) 2014 SSM
SSM exhibited six machines at the ITMA Asia in Shanghai, China from 16th – 20th June 2014. Large interest was generated by the numerous product launches: DURO, NOVA and TG1-AT. SSM was very pleased by the high response.
This year's show attracted around 100'000 visitors from 102 countries, whereas attendance increased by about 7 per cent in comparison to the previous show in 2012. The Swiss based SSM AG, the inventor of the electronic yarn traverse system, showed six machines out of which five of them were shown in Asia for the first time.
For the first time in China, SSM presented their TW2plus-W fastflex™ precision package winder – the economic solution for dye package winding as well as rewinding. From SSM GIUDICI came the TG1 which was exhibited in a special hybrid execution: one side as TG1-FT manual false-twist texturing machine and the other side with the newly introduced TG1-AT manual air texturing machine. The advantage of the TG1-serie is the cost efficient production of high quality yarn.
Undoubtedly the two SSM textile machines, which before the exhibition had been announced as "Surprise, surprise..!", attracted the largest attention: The SSM DURO-TW precision winder for all technical yarns up to 50'000 dtex offers a new level of flexibility and winding quality in one machine; thereby ensuring the fulfilment of all customer requirements. Secondly the NOVA-CS conventional single covering machine was introduced. The machine is designed for the production of high quality elastic covered yarns ranging from fine to medium final counts. Detailed information about those brand new machines is available on SSMs webpage with immediate effect.
Finally the SSM TK2-20 CT / KT a finish winder for sewing threads concluded the range of shown machines in Shanghai. 
Machines (new introductions=*) for the following applications had been on display:

Dyeing/Rewinding *
Air Texturing *
False Twist Texturing *
Sewing Thread Finish Winding
Conventional Covering *
Besides the showed applications, SSM can provide solutions for Air Covering, Draw Winding, Assembly Winding and Yarn Singeing. Once more the excellent reputation of SSM, as the market leader in the above mentioned fields, was acknowledged and with their worldwide service network, SSM is able to provide the maximum return on customer's investments.
SSM would like to take this opportunity to thank everybody that visited their booth, whether it was for discussions concerning imminent projects, checking out the latest equipment or just for the good friendship.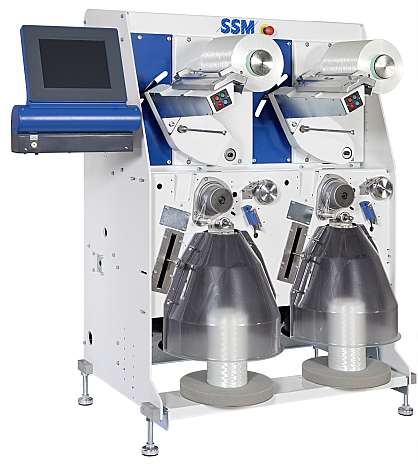 Pic: The SSM DURO-TW precision winder
Related News
Latest News ITMA-Asia + CITME-2014
More News from SSM Schärer Schweiter Mettler AG

Latest News