ITMA-Asia + CITME-2014
2014-05-30
CHTC FONG'S Group participate ITMA Asia 2014 to provide one-stop sustainable solutions

Breaking the barrier of loading capacity, the THEN AIRFLOW® SYNERGY 8 extends up to 12 tubes with individual control, suitable for various kinds of fabrics with better flexibility, quality and ergonomics. It was the winning product of 2013 Hong Kong Awards for Industries: Machinery and Machine Tools Design Award
For the upcoming ITMA Asia on Jun 16-20, 2014, the largest textile machinery manufacturer China Hi-Tech Group Corporation (CHTC) will showcase the latest new technology at Hall W1, A01 together with its subsidiaries as well as one of the predominant dyeing and finishing machinery supplier - CHTC FONG'S. CHTC group will have a half hall booth space with total area of 3,750 sqm. and CHTC FONG'S will share the booth space of 940 sqm.
One-stop Sustainable Solutions! Everyone speaks about sustainability today, both existing key playing countries of textiles productions and upcoming hotspots of receiving the textile productions moves from developed countries are getting very much cautious on environmental control and subsequently the level of "green" production. CHTC sees globally a tremendously high demand of technology upgradation on existing processing house to meet both the sustainability requirement of their end buyer as well as the environmental standard of their local authorities. CHTC strongly believes that the sustainable solution for textiles processing is by having the processing machineries to consume the lowest amount of utilities, and then recycling the same as well. Their flagship products namely THEN AIRFLOW® Synergy 8 aerodynamic dyeing machine, FONG'S TEC series dyeing machine, MONFORTS MONTEX Allround® new patented modular, interchangeable coating head for Technical Textiles, MONFORTS FONG'S MONTEX 6500 Stenter Frame Range, MONFORTS FONG'S MONFORTEX 8000 New Generation Shrinking Range, GOLLER Cold Pad Batch Dyeing Station, XORELLA'S XO-SERIES Vacuum Conditioning and Heat Setting Machines and FWT water treatment recycling system are taking a leading benchmarking level of utilities consumption aspects. All the above mentioned products will be showcased upcoming ITMA Asia.
THEN AIRFLOW® SYNERGY 8
Aerodynamic High Temperature Piece Dyeing Machine
The latest generation of the THEN AIRFLOW® SYNERGY 8 is the best example of how to make good things even better. It is well known that the liquor ratio achieved with the THEN AIRFLOW principle up to date has not been beaten. The same counts for the versatility of this superior machine. With the latest development the energy consumption is further reduced. Every tube now has an individual frequency controlled blower with less installed power. All the other advantages of the THEN AIRFLOW SYNERGY series remain unchanged, which leads to shorter cycling times and substantial savings in water as well as high reproducibility and smooth fabric guiding. In 2013, it won the Award of the "2013 Hong Kong Awards for Industries: Machinery and Machine Tools Design Award".
FONG'S TEC SERIES
High Temperature Piece Dyeing Machine
TEC Series High Temperature Dyeing Machine, with its premium quality and focus on "Lower Cost, Higher Quality and More Eco-friendly", injects infinite vitality to the textile industry. It is suitable for different dyeing process with various types of natural, synthetic and blended fibers, aiming to provide complete solutions: "Efficiency, Energy Saving, Environmental Friendly". Efficiency (Versatile Application): TEC series is specially designed for fabric which is having tight and crease marks sensitive structure, such as 40S/2, 26S/1, 20S/1, tightly knitted fabric, and sensitive shade (E.g. Turquose) Energy Saving: With various new functions, cotton reactive dyeing process takes about approximately 248 minutes for light color Capacity: The new TEC Series is offered various capacities per chamber: 300kg (JUMBOTEC), 250kg (MIDITEC) and 200kg (MINITEC). Customer can choose in range of 1-12 tube. FC30 color multi-function controller: By the Fuzzy Logic temperature control function, the dye liquid temperature deviation can be minimized at + / -0.3 ° C. Patented design - "Lint Collector": Specially designed for loose structure type such as terry towel and fleece; the collector can accumulate lint at the bottom and discharge it during draining.
MONFORTS FONG'S MONTEX 6500
Stenter Frame Range
With technology support by A. MONFORTS in Germany and high production efficiency in China, there are almost 2,000 sets of MONFONGS stenter frame range as well as other ranges in service for customers since its establishment in China from the Year 1999. Since launch of the cutting-edge stenter frame range MONTEX 6500 in 2010, the new model machine has attracted wide attention of the textile industry and sold to the main textile base worldwide, such as India, Bangladesh, Turkey and South-east Asia, which led to a substantial market share and first-class reputation for Monforts Fong's expansion in the overseas market.
The cutting-edge Stenter Frame Range - MONTEX 6500 This top advanced stenter frame range is well-researched fruit of A. Monforts with distinctive A. Monforts features. The machine applies PLC control system with Qualitex 750 software, which allows long-distance technical support, production process control becomes more automatic and stable. Ergonomic design makes the design more humanization; TwinAir system and heat recovery system are equipped to further reduce energy consumption, superior production capacityproduction capacity realized. Optional nozzle types give wide adaptability to textile technology, which conform to the environmental-protection concept of energy conservation and consumption reduction.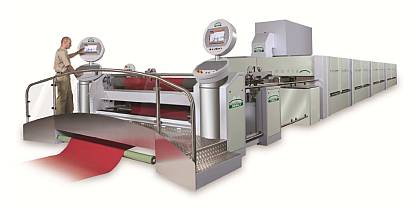 Montex6500
Pic: MONTEX 6500
MONFORTS FONG'S MONFORTEX 8000
New Generation Shrinking Range
Monforts Fong's represents the new generation shrinking range in 2014 and will display the machine in the coming ITMA Asia exhibition. The completely redesigned machine is built on the experience of making Sanfor® machines for the past few decades and integrated present customer requirements in terms of performance, technology and service. Typical features of the new Sanfor® systems include:
improved residual shrinkage with lower rubber blanket contact pressure 
longer rubber blanket life and lower production cost  
40% less water consumption compared with conventional equipment  
fully automatic grinding of the rubber blanket  
faster one-shift rubber blanket change 
GOLLER Cold Pad Batch Dyeing Station
Goller Cold Pad Batch Dyeing Station was designed by Fong's Europe GmbH team of engineers. Dyeing Padder, which is a heart of CPB system, incorporates rollers with deflection control ensuring even dye liquor pick up across the full fabric width. This is achieved thanks to double pressure system; hydraulic build up inside rollers and pneumatic applied on the shafts' ends. Dyeing Padder is manufactured in Fong's Europe factory in Schwaebisch Hall/Germany. Cold Pad Batch Dyeing Station is produced in two main executions; for woven (picture) as well as knitted fabrics. Different types of troughs and nip dyeing facilities as well as relevant fabric batching system are covering different fabric qualities. Two-component dosing system will be shortly followed by multiple-component dosing system.
Dyeing Padder is completing Goller brand scope of supply widening it to dyeing part as well. Dyeing Padder will find its application not only in CPB system but also in continuous pad dry and pad steam dyeing ranges. In ITMA ASIA 2014, you are mostly welcome to come and see the latest GOLLER's Cold Pad Batch Dyeing Station at our booth.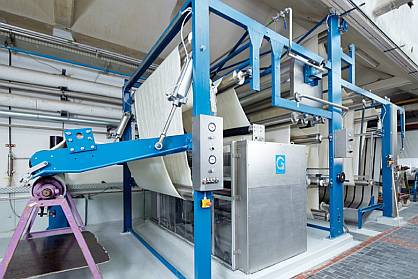 Pic: Goller Cold Pad Batch Dyeing Station
MONFORTS PATENTED MODULAR INTERCHANGEABLE COATINGSYSTEM
A new modular, interchangeable, coating system for technical textiles, the Montex-Allround, will be unveiled by A. Monforts Textilmaschinen GmbH & Co. KG at ITMA Asia in Shanghai, China, June 16 - 20 on Stand number A01 in Hall W1. The new modular coating system ensures ease of adapting to the coating method required. The new patented concept provides the solution to integrate a wide variety of coating, printing and other innovative application techniques.
The position of the coating head, for example, directly within the fabric infeed of the stenter ensures the shortest distance between the infeed and the coating head; essential for high quality coating processes. The Montex-Allround also features individual modules for knife and slot die coating as well as modules suitable for flexo, gravure and rotary screen printing. Integration of special modules such as powder scattering and spraying is also possible. The modules are carried, cleaned and moved with a specially-designed trolley which provides easy access to the side of the stenter infeed with the minimum downtime. An explosion proof cabinet for treating certain solvents is also available for the new modular unit ensuring safe operation with the operator standing outside the enclosure.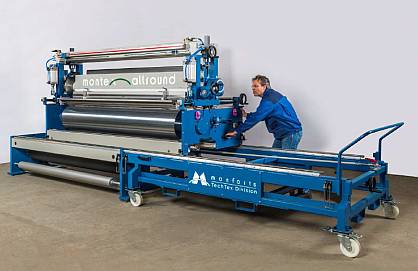 Pic: Montex-Allround, will be unveiled at ITMA Asia
XORELLA'S XO-SERIES
Vacuum Conditioning and Heat Setting Machines
XORELLA's XO-Series energy saving vacuum conditioning and heat setting machines has been well used in improving the quality of yarn and also heat setting of garment. The Xorella XO-Steaming treatment could even penetrate the textile products for humidification, twist setting, preshrinking the synthetic filament, anti static, colour fixation of digital printed fabric and heat setting of garment. The latest saturated steam generating system could reduce 30% of connected power loading and save between 15% to 25% energy consumption. In order to satisfy the requirement of different users, Xorella provides both round and cubical machine and also variety of loading and door opening systems for customer selection. Nowadays, XO-Series machines were used in more than 50 countries in the world.
FWT WATER TREATMENT RECYCLING SYSTEM
With global service for the dyeing and finishing industry, CHTC Fong's Group has focused on its principal business in design, research and manufacture of innovative and energy saving dyeing and finishing machines to help a sustainable balance between the industry development and environment protection. In recent years, the Group's subsidiary, Fong's Water Technology (FWT), has developed the wastewater treatment technology, to achieve the full biochemical no sludge dyeing sewage treatment and water recycling system with double membrane technology applications, providing one-stop sustainable solutions of dyeing wastewater treatment especially for the dyeing and finishing industries.
FWT provides the full biological wastewater treatment system with the advantages of no sludge, no pharmacy, low power consumption and simple operation; while the dual membrane fully automated operation water recycling system has the advantages of low cost, high recycling rate, high quality recycled water and can be used for various dyeing and finishing processes without softening. FWT is the first choice for all dyeing and finishing industries. FWT will exhibit the Water Recycling System which can reuse any kind of qualified discharge water by using the most advanced and reliable dual-membrane processes (ultrafiltration system combined with reverse osmosis membrane system). The recycled water can be directly used for all dyeing processes after most of the mineral salts, calcium, magnesium hardness, Chroma, turbidity and COD composition are effectively removed from the waste water. The quality indicator of recycling water is superior to the normal tap water. If the feeding water meets the required standard, the reject from reverse osmosis can be discharged without additional treatment.
Related News
Latest News ITMA-Asia + CITME-2014
More News from FONG'S Europe GmbH

Latest News